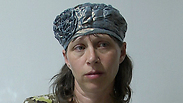 Hadas Mizrahi
Eli Mandelbaum
Wounded and bleeding, Hadas Mizrahi told rescue workers who rushed to the site of Monday's terror attack near Hebron to take her children away from the scene, so that they wouldn't see their father's body.
Chief Superintendent Baruch Mizrahi was fatally shot as his family was on their way to a Passover Seder in the settlement of Kiryat Arba. His wife and nine-year-old son were wounded.
"We left our house in Modi'in and headed to the Seder," Hadas Mizrahi told Ynet. "We passed the Tarqumia checkpoint and a traffic circle, and then Baruch saw a terrorist. He told me, 'they're shooting, they're shooting, they're shooting. There's a terrorist.' Baruch put his foot down on the gas pedal.
"I felt a pain in my back. I told the kids, 'take off your seatbelts and lie down on the floor'. I took the steering wheel, shifted into low gear and used the handbrake to reduce the speed. I used a rag to wipe up the blood; I saw that Baruch was dead. When the soldiers arrived, I told them to dress my wounds and put the children in a protected vehicle, so that they didn't see their father lying dead."
Related stories:
The initial investigation into the attack found that the terrorist fired dozens of rounds from a Kalashnikov at vehicles, hitting the car in which Baruch and Hadas Mizrahi and five of their children were travelling. The children, aged between 3 and 13, did not suffer any injuries, in no small part thanks to Hadas' quick thinking.
Mizrahi was from a religious family, who could not be notified of his death until the Passover holiday ended on Tuesday night. Hadas was released from the hospital Tuesday afternoon so that she could personally go to Kiryat Arba to tell the five children of their father's death.
"I'll be strong for the children, because that's what Baruch would have wanted. We should also be thankful for the miracle that my children and I survived. We will stay strong and God willing, my children will grow and succeed, and that will be my victory against the terrorists," said the mother, whose condition is defined as moderate. "I have two bullet wounds and a fractured rib."
The Chief Superintendent's widow asked to send a message to Prime Minister Benjamin Netanyahu, while discussions on the release of the fourth group of Palestinian prisoners are still ongoing. "Terrorists see that they can murder us and get released, without getting their deserved punishment. This isn't the solution."
In an appeal to the prime minister, Hadas Mizrahi said: "There is no reason to release terrorists while more and more families are murdered. No more terrorists should be released, to prevent other families from suffering the same fate."