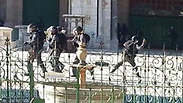 Image posted on social media reportedly showing Israeli troops during Temple Mount clashes
Dozens of Arab youths, some masked, rioted on the Temple Mount in Jerusalem on Wednesday morning, throwing stones and fire crackers at security forces at the site. A policeman was lightly hurt.

The site had opened to visitors as planned, but was closed after the clashes began.

The rioters were dispersed using stun grenades and other crowd control measures. An electrical junction box at the entrance to a mosque sustained some damage.

Video of police officers storming holy site

Elsewhere, young Arab protesters threw stones at police officers in an alley in the Old City. One policeman was lightly wounded.

In recent days, there have been a series of clashes between police and young Arabs on the Temple Mount, and security forces have attempted to prevent Arab youths from gathering at the mosques in the area.

Policemen and Palestinian women clash at site

Palestinian media reported that 25 Palestinians had been hurt in the clashes, and that a guard at the mosque had been arrested. Police also reportedly declared the site a closed military zone and sealed off the Mughrabi Gate into the Old City.






On Monday, police also detained five far-right Israeli activists who had travelled to the Temple Mount with livestock, intending to make an animal sacrifice for Passover.

Police believe the move was a concerted effort to disturb the peace, and handed the sacrificial animal over to officials at the Agriculture Ministry.