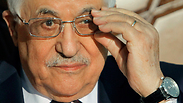 Palestinian President Mahmoud Abbas said Wednesday that he is committed to the continuation of the security coordination with Israel, regardless of whether the ongoing peace talks are extended or indeed successful.

Abbas was speaking during a meeting with Labor and Meretz MKs at his Muqata headquarters in Ramallah, two days after a senior Israeli police officer was shot dead in a terror attack near Hebron.

Baruch Mizrahi, 47, was killed and his wife and son were wounded when their cars came under fire as they drove through the West Bank en route to a Passover Seder on Monday evening.

Related stories:

Prime Minister Benjamin Netanyahu on Tuesday blamed the attack on Abbas, saying his administration actively promoted an atmosphere that made such incidents possible.

"The Palestinian Authority continues to constantly broadcast – in its official media – programs that incite against the existence of the State of Israel," he said.

Meanwhile, Palestinian Minister of Religious Affairs Mahmoud al-Habash on Wednesday condemned the shooting attack, saying he "condemns all murders and feels the pain of the families."

Speaking to Israeli reporters in Ramallah, al-Habash said that violence was strictly prohibited under Islamic law, and that he expects Israel to also condemn the killing of Palestinians.

"It hurts than an Israeli was killed," Army Radio quoted al-Habash as saying. "We condemn the murder of any person on the grounds that he is a person. The principles of killing and violence are totally forbidden."

He said that he expected Israel to do the same when a Palestinian was killed, but, he said, "this doesn't happen."

The United States and Britain both condemned the attack, while Hamas and Islamic Jihad said that the shooting was a consequence of Israeli "crimes."