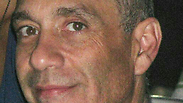 Baruch Mizrahi (Archive Photo)
Baruch Mizrahi, victim of a Passover terrorist attack in the West Bank, was laid to rest Wednesday durign an emotional ceremony in the section of Mount Herzl cemetery reserved for police officers.

Chief Superintendent Mizrahi, a senior member of the Israel Police, was killed when a gunman armed with what is believed to have been a Kalashnikov opened fire on Israeli cars near Hebron as they travelled to a Passover Seder in the Kiryat Arba settlement. His wife and nine-year-old son were wounded in the attack.

"Instead of growing old together and enjoying the changing seasons, I lost the love of my life in the hiss of a bullet. The children cry and can't believe that he's gone," said Mizrahi's widow, Hadas.

"Who will love them so much and provide them with a personal example? My love, our children will follow in your footsteps and you will guide us. I leave you in body, but not in spirit," said Hadas.

Baruch Mizrahi, age 47, was killed as he drove to Passover Seder Monday night when a group of Palestinians fired on the vehicle. Mizrahi's wife was also lightly wounded in the shooting as was a nine-year-old in another car.

Mizrahi was the head of the tech division of the Israel Police. He had served for 25 years in the IDF, holding senior posts in elite intelligence units. A police statement said that his contributions to Israel's security had been "substantial".

Related stories:

Mizrahi left behind five children, the youngest of whom read Kaddish as the funeral procession began.

Six senior police officers accompanied Mizrahi's casket, wrapped in an Israeli flag, while hundreds of mourners looked on. Minister of Internal Security Yitzhak Aharonovich and Israel Police Chief Commissioner Yohanan Danino were present.

The commissioner eulogized Mizrahi saying, "Baruch, the return of your soul to the creator came on the eve of the holiday of freedom. In one moment, joy turned into grief and unity in the pain of wishing you farewell."

"In your job you contributed a great deal to the Police and the citizens of Israel. Baruch can't be brought back, but his contribution will remain for many years and so, we saw it appropriate to give him the rank of Deputy Commissioner of which he was worthy," said Danino.

"We pledge to make every effort to arrest the murderers responsible. Terrorists will not achieve their goals," said Danino.

The Police Chief spoke of Deputy Mizrahi's work saying, "Baruch stuck out as a very diligent and professional officer, with great motivation who used his command for success in his position with the Police. He accomplished this with characteristics of modesty, wisdom, and generosity." said Danino.

"Just in the last few days Baruch was one of the leaders in the reform changes that Israeli Police are making in the sphere of SIGINT technology and its transformation into a modern, professional division that puts the Police at the same level as the topic's leaders in Israel and in the world," said Danino.

The Commissioner addressed Mizrahi's widow saying, "I've known you to be a heroic and courageous woman in such tragic situations. I my conversations with you after this terrible event I was moved by your valor and the way you protect your dear children."

Mizrahi belonged to a religious family, who could not be notified of his passing until the holiday ended. His widow was released from the hospital Tuesday afternoon in order to reach Kiryat Arba and tell the five children of their father's death.

"We passed the Tarqumia checkpoint and a traffic circle, and then Baruch saw a terrorist. He told me, 'they're shooting, they're shooting, they're shooting. There's a terrorist.' Baruch put his foot down on the gas pedal," recounted Mizrahi's widow.

"I felt a pain in my back. I told the kids, 'take off your seatbelts and lie down on the floor'. I took the steering wheel, shifted into low gear and used the handbrake to reduce the speed," said Hadas.

"I used a rag to wipe up the blood; I saw that Baruch was dead. When the soldiers arrived, I told them to dress my wounds and put the children in a protected vehicle, so that they didn't see their father lying dead."

Superintendent Meir Hayon who served alongside Mizrahi in the last few years, said that though they had more than a few arguments about the job, Mizrahi always knew how to keep a good atmosphere despite the pressure at work.

"He stood behind his opinions and if he believed in a certain technology, we could argue for hours and even yell, but in the end we would always wind-up hugging," said Hayon.

"He always used to tell me, 'Meir, the most important thing in the end is that we remain friends, that's the most important thing.' That's a rare attribute when dealing with technology but he was a people person," said Hayon.