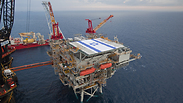 Tamar gas field
Photo: Albatross
Turkey endorsed Russia's South Stream gas pipeline on Wednesday saying that they may allow the conduit to pass through their country on it's way to central and western Europe, but politics play a bigger role than monetary profit in this deal - and could lead to an economic clash with Israel.

According to International Energy Agency reports, natural gas accounted for just 5% of the Turkey's total primary energy supply (TPES) in 1990. This figure saw a huge increase to 32% in 2011.

This 28% jump means that a third of Turkey's energy demands were for natural gas in 2011, making it one of the largest gas markets in Europe.

Gas Bonanza

Israeli gas wealth could improve regional relations but will likely deprive Europe of new, alternative supply for Russian imports.

Russia's energy giant Gazprom has long been a key provider of natural gas to Europe accounting for 38.7% of Europe's gas imports in 2007.

With Turkey's new hunger for natural gas, government officials have been discussing how to increase and diversify their sources of natural gas.

Turkish Energy Minister Taner Yildiz recently said: "We are open to assessing any request for the line to pass through Turkey's territory."

In reality, Turkey is willing to consider almost any idea that will increase the supply of gas to the country, even if it means soothing ties with recent regional rivals.

One source of gas that Turkey is counting on in the future in the Leviathan gas reserve discovered off the coast of Israel.

Though political relations between the two countries are currently at a low point, this gas bonanza could go a long way in healing damaged ties.

Relations between the two countries strained in May 2010 when nine Turkish citizens were killed in an IDF raid of the Mavi Marmara, a Turkish vessel trying to break the blockade on Gaza.

"High-level negotiations on resolving political issues, and lower-level negotiations aimed at making progress on energy have always been held," said a senior Turkish energy official. "Normalization of relations will pave the way for investment and cooperation on energy."

Diplomats are currently discussing a 25-year supply deal which would normalize Turkey-Israel ties and promote greater economic cooperation. In such a case, Turkish sanctions against Israel would be lifted and ambassadors reinstated, the official said.

The plan is to build a sub-sea pipeline for the estimated price of $2.2 billion. This is a deal that would give the Turks the gas they demand, give Israel normalized relations with an important country in the region and of course, make everyone lots of money.
Is Israel set to be the new Russia?
Still, there are even more benefits for Israel in this deal. The boisterous European gas market is looking for reliable sources of energy outside of Russia since tensions over Ukraine and the Russian annexation of Crimea peaked in recent weeks.

The pipeline to Turkey would likely be the first step to providing gas to western European nations experiencing a political rift with the regime in Moscow.

However, Turkey's recent comments in favor of a possible deal with Russia could create competition with a country that Israel has always been careful not to antagonize.

Though Russia has been a leading supplier of natural gas to Europe, it's an even more critical export for the economy of Russia itself. The energy sector, including oil, account for 58% of Russia's total exports.

Whether or not Russian President Putin would openly admit it, Russia would be hard pressed to maintain its current economic status without selling natural gas to Europe.

In fact, the proposed South Stream pipeline was conceived for more than just the benefit of getting a piece of booming Turkish business along its route.

The idea for the pipeline was born as an attempt to circumvent Ukraine which Putin blamed for stealing portions of gas that flowed through the country on its way to Europe. Now as relations with Ukraine sour further, Putin will certainly be even more anxious to find a way around his neighbor.

Watching Israeli gas flow into the European continent would be far from Russia's political interests and it's a project which Putin could very well attempt to sabotage. As can be seen in his dealings with Crimea and Ukraine, it is safe to assume Putin will have no problem finding a political precedent to prevent Israel's pipeline through Turkey.

If Turkey found itself in a situation where it would be forced to choose between the Israeli and Russian pipelines, both sides would have benefits and disadvantages.

Russia has a long history of steady and responsible business with foreign countries in the energy sector. On the other hand, if tensions between Russia and Europe remain at their current level, such a choice could have negative affects on Turkey's long-standing request to join the European Union.

Israel has little-to-no experience handling large quantities of energy resources and the ideological goals of the two countries have recently gone in contradictory directions, but Israel may prove to be a more beneficial and more stable political partner than Russia.

Israeli and Turkish negotiators are hoping to begin construction on the Israeli pipeline in the second half of 2015 while Turkish officials plan to sit down with Russian representatives next week to discuss ways to increase gas supplies.

Reuters contributed to this report