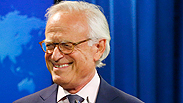 US Special Envoy Martin with Kerry
Photo: AP
Palestinian President Mahmoud Abbas has expressed his willingness to extended talks by an additional nine months, on the condition that talks held during this time focus on core issues – namely final border arrangements.

The position was insinuated by Abbas and PA officials during a Wednesday meeting Abbas held with leftwing Israeli MKs from the Labor party and Meretz, and came as US Special Envoy Martin Indyk was en route to the region in a bid to reach an agreement to extend negotiations beyond their end-of-April deadline.

The meeting with the MKs was held amid news that a meeting between Israeli and Palestinian peace negotiators scheduled for Wednesday has been postponed after the killing of senior police commander Chief Superintendent Baruch Mizrahi Monday in a shooting attack near Hebron.

A spokesman for Abbas said the session had been rescheduled for Thursday at the request of the United States.

"The parties themselves have been meeting regularly to try to achieve an agreement to extend the negotiations," State Department Spokeswomen Marie Harf said Wednesday evening, noting that talks were now entirely focusing on extending negotiations, and not the attempt to reach a framework agreement.

"The bottom line is both parties tell us they want negotiations to continue, and they're searching for a path to do that. The US is continuing to play the role of facilitator and to support the two sides as they try to reach an agreement." She confirmed US Special Envoy Martin Indyk is on his way to the area.

The meeting was held in Abbas' Ramallah headquarters and attended by Labor MKs Yehiel (Hilik) Bar, Michal Biran and Nachman Shai, and Meretz MKs Nitzan Horowitz and Tamar Zandberg. In addition to Abbas, the meeting was also attended by Fatah Central Committee member Mohammed Madani and Palestinian Minister of Religious Affairs Mahmoud al Habbash.

Habbash said that during recent talks between the two sides, the Palestinians demanded Israel present a map of the borders of the future Palestinian state, a issue which they want to be at the heart of talks should they continue.

An Israeli official confirmed the meeting had been delayed but declined to say who asked for the postponement or when teams would reconvene to try to breathe new life into the US-driven peace process.

The killing on Monday of Mizrahi, which also saw the wounding of his wife in a shooting attack on their car in the West Bank as they drove to a Passover holiday dinner struck an emotional chord in Israel.

It drew calls from members of Prime Minister Benjamin Netanyahu's cabinet to postpone the peace talks, at least until after 47-year-old Baruch Mizrahi's funeral on Wednesday.

There was no claim of responsibility for the shooting. But in a statement on Tuesday, Netanyahu said the Palestinian Authority was to blame for anti-Israeli incitement that he alleged led to the attack, and he complained that Abbas had not issued a condemnation.

At the meeting with the Israeli MKs, Abbas "condemned violence and the killing of Palestinians and Israelis," Madani said. Abbas himself fell short of making a direct statement to journalists and no joint statement with the Israeli delegation was made.

MK Hilik Bar (Labor) confirmed Abbas had condemned that attack and MK Zandberg wrote on her Facebook page that Abbas told the delegation that he is interested in extending talks by another nine months, but slammed the Israeli government as a poor partner for talks.
'Peace talks a hobby, not necessity'
In his New York Times column, Thomas Freidman, who is considered close to the current White House administration, claimed Kerry's attempt to revive talks was losing support among some in Obama's administration.

"Peacemaking in Henry Kissinger's day was a necessity. Today it is a hobby. It is not an unimportant hobby (but) the truth is Kerry's mission is less an act of strategy and more an act of deep friendship… to save Israel from trends that will inevitably undermine it as a Jewish and democratic state.

"But Kerry is the last of an old guard. Those in the Obama administration who think he is on a suicide mission reflect the new US attitude toward the region. And those in Israel who denounce him as a nuisance reflect the new Israel."

Friedman claimed that in his view, Kerry "is doing the Lord's work. But the weight of time and all the changes it has wrought on the ground may just be too heavy for such an act of friendship. If he folds his tent, though, Israelis and Palestinians will deeply regret it, and soon."

Moran Azulay, Elior Levy and Reuters contributed to this report