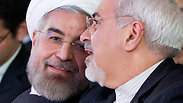 Not concerned, Rouhani and Zarif.
Photo: AP
Iranian hardliners stepped up criticism of Tehran's negotiations with world powers over its nuclear program on Wednesday, but negotiators defended the planned deal that could lead to an end to economic sanctions.

The hardliners, unsettled by the shift to a more moderate foreign policy since President Hassan Rouhani took office in August, have repeatedly criticized the talks in recent months but Iran's Supreme Leader Ayatollah Ali Khamenei backs them.

Iran and six world powers - the United States, France, Germany, Britain, Russia and China - struck an interim deal in November under which Tehran agreed to limit some of its nuclear work in return for the easing some sanctions imposed on Iran for its disputed atomic program.

Related stories:

They set a July 20 deadline to clinch a long-term deal that would allow a gradual lifting of all nuclear-related sanctions.

In their latest charge, critics of the negotiations leaked an audio recording purporting to show Deputy Foreign Minister Abbas Araghchi criticizing Rouhani's view of the nuclear program, the official IRNA news agency reported.

Araghchi lashed out at his critics on Wednesday, saying the audio file was "selected and distorted" and urging them not to play politics with what he called Iran's nuclear rights.

"I am worried. How far is this toying with our national interests going to go?" he was quoted as saying by IRNA, which did not name his hardline critics but said they appeared to belong to the far-right Steadfast Front party.
Foreign minister optimistic
Foreign Minister Javad Zarif told Reuters he did not fear opposition from hardliners and was optimistic about reaching a comprehensive agreement with world powers by July 20.

"There is the political will to get an answer," he said in Abu Dhabi on Tuesday before boarding a plane to Tehran.

"The domestic audience will be satisfied if we have a good deal," he said. "Of course some people will never be satisfied but that is fine because we have a pluralistic society."

On Tuesday, the critics claimed Iran has had difficulty receiving billions of dollars of oil revenue unfrozen under an interim agreement struck with world powers in November.

Majid Takht-Ravanchi, another deputy foreign minister, promptly denied that, saying Iran's central bank has had no problem accessing the unblocked funds.

Araghchi, a key negotiator in the talks that produced the November interim deal, is one of the few carry-overs from the previous administration of Mahmoud Ahmadinejad. He has also participated in bilateral discussions with the United States.

Iran and the six powers ended their latest round of talks in Vienna last week and said they would start drafting an agreement ahead of their next meeting there on May 13.

The Islamic Republic denies accusations by Israel, Western powers and their allies that it has tried to develop the capability to produce atomic weapons under the cover of a civilian nuclear energy program.

During his visit to the United Arab Emirates, Zarif met with officials including Foreign Minister Sheikh Abdullah bin Zayed an-Nahyan and Energy Minister Suhail bin Mohammed al-Mazroui.

Efforts to resolve the civil war in Syria were also among the topics discussed, but officials did not elaborate.