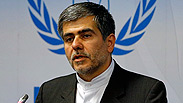 Fereydoon Abbasi
Photo: AFP
Iran has converted most of a nuclear stockpile that it could have turned quickly into weapons-grade uranium into less volatile forms as part of a deal with six world powers, the UN atomic agency reported Thursday.
Meanwhile, a senior Iranian official claimed that the US and the West were trying to sabotage the Iranian nuclear program.
The covert American "Operation Olympic Games" against Tehran has been exposed two years ago, and much was written about Israeli attempts to stop the Iranian race for the bomb - but this is the first time an Islamic Republic official describes how he believes this sabotage happens.
Related stories:
Fereydoon Abbasi told an Iranian paper that the United States prevented companies of transferring equipment to Iran - and then put the same equipment on sale on the black market.
The nuclear scientist, who survived an assassination attempt and later went on to head the Iranian Atomic Energy Organization, said the Americans knew that Tehran will have no choice but to buy this equipment off the black market, and sabotaged it in order to hurt the Iranian nuclear program.
Abbasi claimed the US found out from the International Atomic Energy Agency (IAEA) what parts Iran was trying to obtain and from who, and planted viruses and explosives in that equipment.
Iran is now left with substantially less of the 20-percent enriched uranium that it would need for a nuclear warhead.
However, despite that and despite progress made in nuclear negotiations with Tehran, the West fears this is all a part of the Iranian deception plan. Abbasi himself admitted in the interview that Iran repeatedly lied about its nuclear program, claiming it was because the West was trying to sabotage it.
"The American system was to pressure the country or company not to transfer the parts or equipment to Iran, or to allow them to do so only after sabotaging that equipment," Abbasi told Iranian paper Khorasan.
"For example, if this was an electronic system, they would plant a virus or explosives in it, or even try to change the type of components, just so they could paralyze our program."
In the interview, translated by the Middle East Media Research Institute (MEMRI) and quoted by Fox News, Abbasi claimed that the Americans "opened their own channels that they could control, in order to provide Iran with the equipment that helps their (the Americans') cause."
He also claimed it was the US that planted the Stuxnet virus in Iran: "They planted it in equipment Iran purchased."
Iran denies any interest in atomic arms. But it agreed to some nuclear concessions in exchange for a partial lifting of sanctions crippling its economy under the deal, which took effect in January.
Uranium at 20 percent is only a technical step away from weapons-grade material. By the time the agreement was reached late last year, Iran had amassed nearly 200 kilograms (440 pounds). With further enrichment, that would have yielded almost enough weapons-grade uranium for one atomic bomb - a threshold Israel had vowed it would prevent by any means possible.
Under its agreement, Iran agreed to stop enriching to grades beyond 5 percent, the level most commonly used to power reactors. It also committed to neutralizing all its 20-percent stockpile - half by diluting to a grade that is less proliferation-prone and the rest by conversion to oxide used for reactor fuel.
In line with information given to The Associated Press by diplomats earlier this week, the IAEA confirmed Thursday that Iran had completed the dilution process.
The confidential IAEA report obtained by the AP also said conversion was well underway, with over 50 kilograms (110 pounds) of the 20-percent material rendered into oxide.
Iran has until July to fulfill all of its commitments under the deal. But it has to show progress in exchange for sanctions relief, and it is eager to get its hand on the next tranche of some $4.2 billion of oil revenue funds that were frozen under international sanctions meant to force it into nuclear compromise. It already has received more than half of that amount in exchange for step-by-step implementation of the agreement.
The November deal between Iran and the six world powers - the United States, Russia, China, Britain, France and Germany - is meant to lead to a comprehensive deal placing long-term caps on Iran's enrichment program and other atomic activities in exchange for full sanctions relief. The two sides hope to reach agreement by July but can extend negotiations if both agree to do so.
Beyond its commitments to neutralize its 20-percent uranium stock, the IAEA report said that Iran also was complying with other obligations under the six-month interim plan, which restricts Tehran from expanding any activities that could be turned toward making a nuclear weapon.