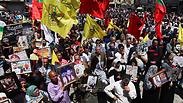 A Palestinian rally in Hebron to mark Prisoners Day, a new Palestinian Authority initative, turned violent Thursday as 30 suspects hurled rocks towards soldiers stationed in the city's Policeman's Checkpoint.

The Checkpoint is a military post that separates the Jewish quarters from the Palestinian neighborhoods in the city. Security forces used riot-dispersal measures, in which six Palestinians were lightly injured from rubber bullets.

Thursday marks the second day in a row where incidents occur in the area. The previous day seven Palestinians were injured during demonstrations from crowd control measures after throwing rocks and bottles at IDF forces.

But in other parts of the West Bank and in Gaza, Palestinians gathered peacefully for rallies of solidarity with Israeli-held prisoners, as peace talks near collapse after the Jewish state refused to free long-serving inmates.

To mark Prisoners Day, thousands were expected to demonstrate in the West Bank city of Ramallah, and hundreds took part in early rallies in the Hamas-run Gaza Strip late Wednesday.

"We won't forget our prisoners - prisoners first!" read banners in Gaza City as demonstrators set off from mosques across the Strip.

Related stories:

Chief Palestinian negotiator Saeb Erakat said in a statement: "The plight of the prisoners reflects the plight of the Palestinian people as a whole."

"Prisoners Day has extra importance this year, because it is the reason that peace talks have almost collapsed," Palestinian Prisoners Club head Abdel Al al-Anani told AFP.


As a part of an agreement reached in July under the auspices of US Secretary of State John Kerry to revive the peace process, Israel had promised to release 104 prisoners imprisoned before the 1993 Oslo Accords in four phases.

In return, the Palestinian leadership had agreed to suspend any process of accession to international organizations until the end of the talks. But Israel refused to release the last group of prisoners on the scheduled date, saying it was conditioned with progress in negotiations.

Palestinian Authority President Mahmoud Abbas responded by signing applications for membership in 15 international treaties and conventions, claiming Israel has broken its commitment and the Palestinians were therefore not bound by theirs.

The PA announced the launch of an international campaign on behalf of prisoners, including Marwan Barghouthi, one of the leaders of the Second Intifada (2000-2005), who has been imprisoned in 2002.

"The internationalization (of the issue of prisoners) began in earnest when the Palestinians decided to adhere to the 15 international conventions and treaties, including the Geneva Conventions, which provide several important rights for our prisoners", PA Minister of Prisoners Issa Qaraqe told Palestinian radio on Thursday.

A one-day hunger strike was being observed by inmates to mark the annual show of solidarity with the nearly 5,000 Palestinian prisoners held in Israeli jails, Qaraqe told AFP.

According to Israeli rights group B'Tselem, Israel is holding 4,881 Palestinian prisoners, including 175 in administrative detention, where they can be detained without charge for renewable six-month periods. 183 of them are minors, B'Tselem said.