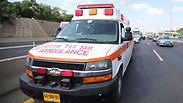 Illustration
Photo: Yaron Brener
Charlie Abutbul is the crime boss which was shot to death in his Netanyah home. Abutbul was discovered with a gunshot wound in the head and evacuated to Laniado Medical Center in the city, where he was declared dead.
Evidence at the crime scene suggests the death was a result of a suicide attempt, but Israel Police has not ruled out criminal motives. Abutbul was expected to begin serving a jail sentence for a kidnapping plot.
Police units and Magen David Adom emergency personnel were called Thursday afternoon to Abutbul's home. He was found at the scene with a bullet wound.


MDA crews provided emergency care and evacuated him to a nearby hospital. He was in critical condition on the way to Laniado Medical Center, where it was announced his had succumbed to his wounds.
Related stories:
The MDA emergency services crew was called to a house in central Israel at 5:30 pm after a report of a gunshot casualty. The crews arrived on the scene to discover a man, in his fifties, suffering from a gunshot in his upper body. The MDA team evacuated him to the hospital, where relatives and family members of the crime boss were informed of his passing.
A gun was discovered near the man's body at his home, raising the possibility of a suicide attempt. The handgun was confiscated as part of the investigation. His wife and son were in the home at the time of the shooting.
A number of people from the area, known to have crossed paths with the deceased, were called in for questioning. Moshe Sherman, who represented the mob boss in the past, said: "The man was expected to go to prison; I do not believe he hurt himself."
Police considered Abutbul to be the head of a crime syndicate. He was incarcerated and released several times over the years. A few months ago, a plea bargain agreement between Abutbul's attorneys and the prosecutor's office in a kidnapping case for which the mob boss was expected to serve 16 months in prison.
Abutbul had escaped several assassination attempts. In September 2010 masked men fired at him from a passing motorcycle when he was arrived at a gas station in Netanya. He was not injured in the attack.
Two years before that event, Abutbul was the target of another assassination attempt while dining at a restaurant in Netanya. An assassin entered the restaurant and fired at the diners before escaping the scene on a motorcycle. Abutbul was gravely injured and four innocent bystanders were injured in light-to-moderate condition.
The mob boss was not the only marked man in his family. His brother, Felix Abutbul, was murdered in August 2002 at the entrance of his casino in Prague. Charlie's brother, Francois Abutbul, was assassinated in July 2011 while at a gas station on Route 2.