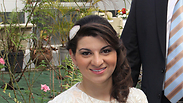 VIDEO - Her name is Deborah. She's 27-years-old and moved to Israel from Rio de Janeiro. While in Israel for vacation, she met Aaron, a 29-year-old from the US. They plan on marrying in the summer of 2014, but their road to the chuppah crossed continents and was far from simple.

Just a short while after they met, Deborah had to leave Israel. Aaron took her to the airport and there he told her that he had fallen in love with her.

Video courtesy of jn1.tv

In the middle of January 2014, Aaron surprised Deborah with an unusual marriage proposal over Skype, at three in the morning.

"I know that's not the most romantic way, but I felt like I had to just do it," he said. "I took vacation from work and flew to Rio. Even my parents came from Los Angeles and we all had an engagement party with Deborah's family as well."

Related stories:

Afterward the two returned to Israel – this time as Israelis in every way. Deborah said that it wasn't just her love for Aaron that drew her to the holy land, "It's a safe place for Jews, and we met lots of great people in Israel."

Deborah and Aaron are two of 87 people who have moved to Israel from Brazil since the beginning of 2014. The Ministry of Immigration and Absorption reported that this is an increase of more than 100 percent in people who swap the land of samba and soccer for the land of milk and honey, though some 95,000 Jews still live in Brazil today.

"Jews in Brazil look at Israel and see an island of economic stability with a wide range of business and living opportunities, and that's not even mentioning the similar weather," said Immigration and Absorption Minister Sofa Landver.

Another new Israeli citizen from Brazil is 23-year-old Fernando Silva who settled in Kibbutz Mishmar HaSharon. He was at the kibbutz last year while visiting Israel as a tourist and decided that the kibbutz and the country were where he belonged.

"In Brazil there are lots of incidents of violence. You can get robbed for no reason out in the middle of the street. This could never happen here. It's safe here. I feel really good in Israel," said Silva.

Risa Borzstein, 22, also visited Israel last year and fell in love with the country before deciding to move.

"I wasn't happy in Brazil," she explained. "I had a dream to work in a hotel in Jerusalem and to be close to the Jewish religion. When I visited Israel last year I felt really alive. I knew then that I didn't want to be in Brazil anymore, that I belong here rather than there – close to my religion and my culture."

She realized her dream and after moving to Israel began work at a prestigious hotel in Jerusalem.