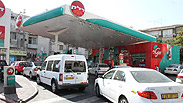 Photo: Ofer Amram
Photo: Ofer Amram
Israeli conglomerate Delek Group said on Thursday its subsidiary Delek Europe Holdings signed a memorandum of understanding to sell Delek Europe BV to a foreign fund for 355 million Euros ($490.13 million).

Delek said 180 million Euros would be paid in cash in two equal installments while the seller would extend a loan to the buyer for the remaining 175 million. The loan would be repaid within five years and three months with interest of 5 percent annually.

The two sides agreed on dates for signing a detailed agreement and completing the deal but they did not disclose this information.

Related stories:

The deal is subject to regulatory approval and there is no guarantee it will be completed, Delek said in a statement. The name of the buyer was not revealed.

Delek Europe was established in 2007 and made two big acquisitions: the operations of Chevron Corp in Belgium, the Netherlands and Luxembourg; and the operations of BP PLC in France. BP France's operations included hundreds of fuel stations and convenience stores and holdings in three fuel storage and marketing terminals.