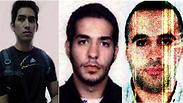 Hezbollah cell
Photo from Stop910.com
Official in Thailand claim that a Hezbollah cell arrested early this week was planning a terror attack against Israeli tourists visiting Bangkok during the Passover holiday, the Bangkok Post reported.

The attack was suppose to take place in the Khao San Road, the city's main tourist hub popular with Israeli travelers, during the holiday of Songkran which coincides with Passover.

A source within the investigation told the Bangkok Post that the two suspects arrested were French-Lebanese national Daoud Farhat and Lebanese-Filipino national Youssef Ayad. It is unclear whether Bilal Bahsoun, an additional suspect petitioned in relation to the attack, is in Thailand.

According to the report both Farhat and Ayad were born in Lebanon, though Thai authorities have yet to confirm whether the travel documents were genuine or not.

The report further claimed that the Thai police received intelligence information from Israel about the planned Passover attack, and claimed investigators believe at least nine suspected foreign terrorists connected to Hezbollah are somewhere in the nation.

According to a source cited by the report, Ayad had supplied the police with useful information and admitted the group entered Thailand to carry out an attack against Israelis in the city's Khao San Road.

"Now we can seize materials, such as nails and bolts, used in making bombs from their homes in Bangkok. We are taking the holder of the Philippines passport to Rayong province to search for more bomb-making material kept there," the source told the post.

"If we had been unable to arrest the men during Songkran (Passover holiday), a bomb attack would certainly have taken place somewhere on Khao San Road," the source further said.

Thai Police Lt. Gen Winai said the two terrorists would be deported immediately after Thai police finish questioning them: "They are still being questioned thoroughly. We have not yet pressed any charges against them. Once we finish questioning them, we will deport them.

The initial report was broken by the website Stop910.com, which collects information on terrorist cells operating in Asia. According to the Bangkok Post, both Farhat and Ayad were listed on the site.