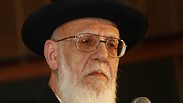 Rabbi Shalom Cohen
Photo: Niv Rosenberg
Shas has a new spiritual leader – Rabbi Shalom Cohen was chosen by Shas' Council of Torah Sages to take the place of Rabbi Ovadia Yosef who passed away six months ago as the movement's leader.

Shas, a Sephardic ultra-Orthodox party draws its power and appeal largely thanks to its constituency's adherence to high rabbinical council, which is led by the spiritual leader. The body serves as the highest authority for religious law and is also instrumental in the party's education and welfare programs.

In a Passover ceremony held in Bnei Brak for senior rabbis, the council informed Rabbi Cohen that they view him as the movement's leader – a position left vacant since the passing of Rabbi Ovadi Yosef, an iconoclastic figure credited with revolutionizing both Israeli politics and religious law.

In his time Rabbi Yosef was called the Posek HaDor (the generation's leading religious arbiter) and Maran (master) by his supporters, and a divisive and polemic figure by his detractors.

Related stories:

Rabbi Cohen – also known as Hacham Shalom Cohen (Shalom Cohen the Wise), is 83-year-old, serves as the head of the exclusive Porat Yosef yeshiva – Shas' flagship religious seminary – and has served on the sages' council since Shas' establishment some 30 years ago.

Cohen is also a close affiliate of current Shas Chairman Aryeh Deri, and the move is set to bolster the latter's control of the party and its organs.

In recent months, Cohen functioned as the most senior of the council's religious sages. However, the position was never formalized – both as a result of internal political tensions and in an attempt to prevent a comparison to be drawn between the relatively unknown Cohen and his omnipresent predecessor who was the life and spirit of the movement.

Initial hints of the appointment could be found earlier this week when Shas' news paper Yom LeYom (Day to Day) called Rabbi Cohen the Maran (or master) for the first time, and was dubbed "the head of the Council of Torah Sages". In the past the title of Maran was reserved for Yossef as a result of his prolific output as a religious arbiter.

Those objecting Cohen's ascension to power claimed the article was an attempt at underhanded opportunism which does not truly represent the opinions of the council's rabbis.

However, after Thursday's announcement, in which the council moved to appoint Cohen as its leader, there is no longer room for dissent.

Though well known as a rabbi of a relatively 'strict' nature among the haredi public, like his predecessor, outside the community he is known for his polemic comments – namely against the religious Zionist party Bayir Yehudi and its voters.

The most recent of such comments was when he called the religious Zionist public "Amalek" – a derogatory concept used by some rabbis to describe atheism or threats to the Jewish people and faith. Rabbi Yosef eventually had to apologize for the comments made by his unwitting heir.