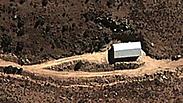 Arms depot, before alleged strike
Lebanese newspaper The Daily Star published photos on Friday that reportedly show a Hezbollah arms storage facility in the Bekka Valley before and after it was allegedly bombed by Israel two months ago.

The Google Earth satellite images from March 6, ten days after the alleged Israeli strike, reportedly show scorched earth and possible traces of a building that was, until recently, at the side of a dirt road south of the town of Janta.

Another satellite image from September 2, 2012, shows a 21x11 meters structure that has what appears to be two entrances for vehicles.

The report stated that this structure was located in an area under Hezbollah control that includes a training camp and living quarters for the organization's soldiers.

The paper reported the structure was destroyed in an alleged Israeli strike on February 24, in which, according to foreign media reports, Israeli jets fired four missiles in two flights at an unidentified target or targets.