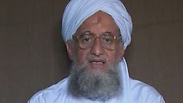 Al-Quaeda leader Ayman al-Zawahiri
Photo: EPA
Al-Qaeda leader Ayman al-Zawahiri slammed Palestinian Authority President Mahmoud Abbas this week, calling him "a traitor who is selling out Palestine."

Fatah officials were quick to respond to Zawahiri's comments, calling him a "hypocrite," wondering why he suddenly developed an interest in the Israeli-Palestinian conflict and warned that his comments threaten to create an internal conflict among the Palestinian people.

In an audio tape posted on al-Qaeda-linked websites, Zawahiri said that "Fatah pretends to be a national liberation movement, but it has turned into a movement that sells out its homeland and its citizens.

"These people abandoned the majority of the homeland and many of its citizens, and now their president is giving up on the right of return to please the United States," Zawahiri accused.

Related stories:

The al-Qaeda leader sent a message to US President Barack Obama as well, saying Obama "knows very well that we are spreading to other countries besides Syria, Algeria, Iraq, Yemen, Somalia and Mali."

On the situation in Egypt, Zawahiri said al-Qaeda "welcomes any jihad activities against the Zionists and against the (Egyptian) army that is allied with the United States and defends (the Zionists') border."

Shortly after the audio recording was posted, Fatah officials attacked Zawahiri, saying he "serves the Zionist plot to tear the Palestinian people apart during this sensitive time, when Abbas if facing threats and pressures to give in to American and Israeli demands."

Fatah spokesman Ahmad Assaf added that Zawahiri's statements "confirm the level of his and his organization's involvement in the Zionist project. Since when has this hypocrite and his gang been interested in the Palestinian issue and the Palestinian people? They see the whole world an open arena for their activities, but we didn't see even one activity against the Israeli occupation."