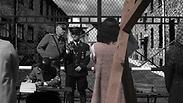 Jesus at the gates of Auschwitz
Jesus Christ makes a surprising appearance in a dramatic YouTube video depicting Jews arriving at the Auschwitz extermination camp and being sent right - to hard labor - or left - to the gas chambers.

The video was created by an evangelical group called Jews for Jesus, and aims to convert Jews to Christianity.

As Jesus, the only character appearing in color in the black and white video, arrives at the gates of the death camp, a smug Nazi officer directs him to "the showers" and to his death, because he is "just another Jew."

The video, titled "That Jew Died For You," was intentionally released in conjunction with Passover, Easter and the upcoming Holocaust Remembrance Day in order to "engage people in a conversation" about Jesus' meaning to both Jews and Christians.


"Our intent was not to (elicit) any kind of angry response but to actually engage people in a conversation because we think that the conversation about who Jesus is, (is) important for Jews and Gentiles to discuss, and especially at this time of year, as we are in the Passover, Easter season, and leading into Holocaust Remembrance Day next week,"

The Christian Post quoted Jews for Jesus associate executive director Susan Perlman as saying.

"Jews and Christians are thinking about themes of redemption and hope, and there's no greater redemption story than that of Jesus who came to die for our sins and rise again, that all of us can have new life in Him," she added.