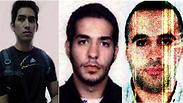 Hezbollah cell
Photo from Stop910.com
Israel has asked the Bangkok police to increase security measures for tourists in the city's Phra Nakhon district, after an alleged Hezbollah terrorist plot to attack Israelis was thwarted, the Bangkok Post reported on Saturday night.

The request from the Israeli embassy for increased security in popular backpackers hubs came after two alleged Hezbollah operatives, allegedly planning to attack Israeli tourists during Passover, was arrested earlier this week.

In a letter to the Bangkok police, the Israeli embassy also thanked it for the arrest of the two suspects.

Police Maj.-Gen. Thitirat Nongharnpitak, who is overseeing the increased security measures, said additional plain-clothes and uniformed police officers have been deployed to Khao San Road, where the majority of Israeli backpackers stay.

The plain-clothes police officiers will seek out intelligence about planned attacks on Israelis while the uniformed policemen will secure the area and look out for suspicious behavior, Nongharnpitak told the Bangkok Post.

The Bangkok police arrested French-Lebanese national Daoud Farhat and Lebanese-Filipino national Youssef Ayad following information provided by the Israeli embassy. It is unclear whether Bilal Bahsoun, an additional suspect petitioned in relation to the attack, is in Thailand. Investigators believe at least nine suspected foreign terrorists connected to Hezbollah are somewhere in the nation.

Bangkok police chief Kamronwit Thoopkrachang told the Bangkok Post that the Israeli embassy told police the suspects were planning to carry out attacks in six locations in the city.

According to a source cited by the report, Ayad had supplied the police with useful information and admitted the group entered Thailand to carry out an attack against Israelis in the city's Khao San Road.