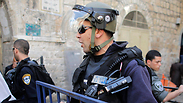 Israeli forces at the Temple Mount
Photo: Reuters
Dozens of masked Arab youths began throwing rocks and fireworks at Israel Police forces Sunday morning from the Al-Aqsa Mosque, in the Temple Mount compound, just as the area was being opened to visitors.

Police forces responded to the violence with crowd-control measures, and the site was closed off.

Temple Mount clashes from last week (Video: Israeli Police Spokesman) (צילום: דוברות משטרת ירושלים)

Police closed the Temple Mount to visitors after an incident in which two Border Guard officers were lightly wounded. They received medical attention on-site.

Related stories:

In all, sixteen suspects were arrested by the time order was restored in the compound.

The arrest tally on charges of disturbing the peace reached 24 for the weekend, and includes five youths who attempted to climb the eastern side of the compound in an attempt to gain access to the highly-guarded holy site.

Police discovered tear gas on three suspects, who were transfered for questioning at the Old City police station..

Before Sunday's riots, Commander of the Jerusalem District Major General Yossi Parienty decided that, because of attempts by Arab youths to cause disorder on the Temple Mount, only men over the age of 50 with Israeli identification cards and women of all ages would be allowed entrance for Sunday's prayers.