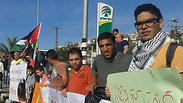 Umm al-Fahm protest
Photo: Hassan Shaalan
Hundreds of Umm al-Fahm and Wadi Ara residents convened in the town's center Monday afternoon to demonstrate against "price tag" hate-crime attacks.

The High Follow-Up Committee for Arab citizens of Israel announced the protest event after the city's Abu-Bakr Al-Siddiq mosque was vandalized on Friday. Police called on drivers to avoid Route 65 because of the demonstration.

Protesters claimed that police forces have not done enough to eradicate the "price tag" phenomenon and that the government was not interested in these crimes.

Hundreds of police officers were deployed in the Wadi Ara area. Israel Police issued advisories suggesting alternative routes to avoid roads that pass through the protest zone.

Related stories:

Residents of Umm al-Fahm arrived at the mosque Friday, and vowed to not let this incident go ignored.

"We have been silent long enough regarding 'price tag' attacks," said Ahmed Mahhamid, claiming such attacks must be stopped.

"This time, the response to this act should be strong; attacks on mosques cross a red line. Unfortunately, in the past the police have failed in their duties - they have failed to apprehend the criminals who stand behind the price tag attacks."

The mosque's Imam, Jamil Mahagna, supplied further details into the attack: "We arrived at the mosque at 4:30 am and noticed a fire at the entrance. We immediately extinguished it and called the police. We're lucky that the fire did not have time to spread."

The Imam called on the police to "arrest the criminals. Their only aim is to hurt relations between Arabs and Jews."