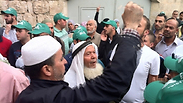 Clashes at Temple Mount
Photo: Mahmoud Abu Atta
The Jordanian Foreign Ministry called the Israeli ambassador in to protest Israeli actions on the Temple Mount after wave of clashes on the sacred site, official Jordanian news agency Petra reported Monday evening.

Amman told the Israeli ambassador that recent clashes on the Temple Mount are a violation of international law and the Jordan-Israel peace treaty.

Related stories:

According to the report, the Jordanian government harshly condemned the Israeli offenses against the Temple Mount compound, which include "the entry of radical Jews, hurting the sanctity of the al-Aqsa mosque, attacks on worshippers and employees of the Jerusalem Islamic Waqf."

In recent days, dozens of Arab youths, some masked, rioted on the Temple Mount, throwing stones and fire crackers at security forces deployed to the scene. The clashes led to the compound being closed to visitors and the arrests of dozens suspected of violent acts.

In the personal call with the Israeli ambassador in Amman, Daniel Nevo, Jordanian officials demanded Israeli end these actions immediately. According to the Jordanians, Israel must take responsibility for the safety and security of the Temple Mount, the worshippers, the Waqf workers, and other visitors to the site.

Ambassador Nevo told the Jordanian officials that he would pass the message on to Jerusalem, Petra reported.