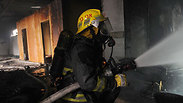 Archive
Photo: Yaron Brenner
A team of firefighters who were called to extinguish a garbage can on fire at Beit El settlement on Monday night were beaten with rods and stones by local youth settlers, according to the firefighters, who filed a complaint to the police.

As the firemen were working to put out the fire at Shivat Haminim St. in the settlement, several youth arrived at the scene and claimed that the firefighters' vehicle was blocking the road.

Related stories:

While shouting at them, the settlers started attacking the firefighters. Two of the firemen suffered head injuries and lacerations and were taken to Hadassah Medical Center at Mount Scopus in Jerusalem.

The Judea and Samaria District police said Tuesday morning that two suspects have been arrested and their vehicle towed. "The investigation continues and additional arrests are expected to be made.

"We consider last night's attack very serious, as these firefighters were performing their duty to protect the citizens' lives," stressed Judea and Samaria spokesman, Asaf Evers.