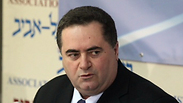 Yisrael Katz
Photo: Motti Kimchi
Transportation Minister Yisrael Katz asserted Tuesday that if Mahmoud Abbas dismantles the Palestinian Authority and declares the Oslo Accords annulled, immunity granted to PLO leaders as part of the accords will be cancelled and they will be considered "enemies."

"We must make it clear that if the Authority announces it is dismantling, that would cancel the immunity given to the PLO leadership as part of the Oslo Accords. (Jibril) Rajoub's fate will be the same as (Marwan) Barghouti's, and any contact MK Ahmad Tibi has with Abbas will be considered contacting the enemy," Katz said.

He also asserted that if the Palestinians break the Oslo Accords, Israel must take "meaningful retaliatory measures," primarily "a decision to cancel the clause that ensures safe passage between the Gaza Strip and the West Bank. This territory is under Israeli sovereignty and we don't owe them anything."

Related stories:

"Now, at the moment of truth, it once again becomes obvious Abbas is bluffing," Katz said. "Unwilling to make concessions, turning to the UN, and rushing to embrace Hamas. The negotiations essentially ended with nothing and this is the time to unite and stand together facing expected pressures."

Abbas' move, that would leave Israel responsible for 2.5 Palestinians living in the West Bank, was first exposed in Yedioth Ahronoth.

The United States warned Monday that dismantling the Palestinian Authority would hurt the Palestinians' ties with the US and the aide it provides them.

During the Mimouna celebrations in Or Akiva, Netanyahu addressed Abbas' proposal and the scheduled reconciliation meeting with Hamas in Gaza: "Yesterday the Palestinian Authority discussed dismantling, today it is mulling uniting with Hamas. Let them decide whether to dismantle or unite.

"When they want peace, they should let us know. Because we want a lasting peace. Today, on a holiday, our enemies launched rockets on our towns, and our policy is clear – respond with immediacy and intensity."