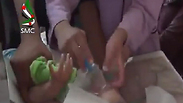 New videos of chemical attack
Arab media broadcasted new videos on Tuesday documenting the chemical attack that allegedly took place in the village of Tamana al-Ghab on the outskirts of Idlib in northern Syria.

Opposition sources told Al Arabiya that hundreds were hurt, suffering from suffocation, while Al Jazeera reported one child was killed and dozens were hurt.

Chemical weapons attack in Syria ( )

These videos surfaced at a moment of renewed international tensions around the use of chemical weapons in Syria.

Related stories:

After French President Francois Hollande said on Friday his country has information that the regime of President Bashar Assad is once again using chemical weapons against rebels fighting to topple it, the US State Department said Monday night that it also has "indications of the use of a toxic industrial chemicals" in the town of Kafr Zita.

"We are examining allegations that the government was responsible," State Department spokeswoman Jen Psaki told reporters.

A week and a half ago, the Assad army has allegedly dropped barrels of chlorine that exploded and resulted in the wounding of dozens of people. Opposition sources posted videos indicating on "quite a number" of wounded in the attack. The wounded suffered suffocation, and were treated with an oxygen mask.

The report was in line with other opposition claims of similar attacks.

The use Assad's army has made of its chemical weapons stockpile was an international turning point in the civil war Syria has been engulfed in for over three years.

Following a sarin gas attack on August 21 last year that killed hundreds of people, the United States threatened to strike the Assad regime. After several tense days of exchanging threats and geo-political messages, Assad agreed in September to adhere to an agreement between Russia and the US saying Syria would give up its chemical weapons arsenal until the middle of 2014.

However, more and more reports of chemical arms use have appeared in recent weeks.