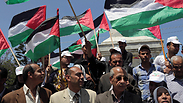 Palestinians protest for unity in Gaza City
Photo: AP
The Palestine Liberation Organization (PLO) sent a delegation to Gaza on Tuesday to negotiate unity with militant group Hamas for the first time since their 2007 conflict, potentially boosting Fatah leader and Palestinian president Mahmoud Abbas's position.

Few Palestinians expect a breakthrough in the deadlock that has paralysed Palestinian politics, and many have low expectations of any resolution to the seemingly endless duel.

A deal could restore a measure of sovereignty to Abbas in Gaza and boost his negotiating power with Israel in any future peace talks, although such a partnership could also provoke a backlash from Israel against the PLO in the West Bank.

The reconciliation mission coincided with a meeting between Abbas's Fatah-led group and Israeli peace negotiators in Jerusalem to try to extend talks beyond an April 29 deadline.

Hamas and Fatah have failed since 2011 to implement an Egyptian-brokered unity deal because of disputes over power-sharing and the handling of conflict with Israel.

Azzam Al-Ahmed, a senior Fatah official, denied that the attempt to negotiate a deal with Hamas was designed merely to strengthen Abbas's hand in peace talks with Israel.

"We want to end the division whether there is negotiation (with Israel) or there isn't. We want to build Gaza and the West Bank and end the (Israeli) occupation," Al-Ahmed told official Palestinian news agency WAFA.

A senior Hamas leader based in Egypt arrived in Gaza on Monday to prepare for talks aimed at reaching a reconciliation agreement between Hamas and Fatah. Moussa Abu Marzouk, responsible for external affairs, met with Hamas prime minister Ismail Haniyeh ahead of a visit by Fatah officials on later this week.

If Palestinian unity talks end with a deal, paving the way to hold elections and plan a national strategy towards Israel, not only might Abbas gain negotiating power, but Hamas, hemmed in by an Israeli-Egyptian blockade, might become less isolated.

The two sides disagree on policy toward Israel. Islamist Hamas refuses to renounce using force against the Jewish state and secular Western-backed Fatah wants a deal with Israel to set up a Palestinian state in Gaza, the occupied West Bank and East Jerusalem - lands Israel captured in the 1967 Middle East War.

Both Hamas and Fatah also persistently trade blame over their arrests of rival members. Dozens of prisoners have been held by each side since Hamas took control of Gaza and Fatah remained the predominant party in the Israeli-occupied West Bank following Hamas's surprising win in 2006 parliamentary polls.

"If Fatah possesses the political will to implement the agreement, we would be going forward on the right direction to please our people," Hamas spokesman Sami Abu Zuhri told Reuters.

"My feeling is closer to pessimism than optimism," Palestinian Gaza political analyst Talal Okal said.