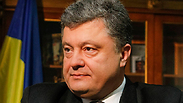 פטרו פורושנקו שר החוץ לשעבר של אוקראינה ומועמד לנשיאות
Photo: Reuters
Lieberman, Peres met with Ukraine presidential hopeful Poroshenko
In secret visit to Israel, frontrunner in the Ukrainian presidential election Petro Poroshenko held meeting with president and foreign minister, who broke Israel's silence on Ukraine, saying 'normalization with Russia in our, world's interest.'
Weeks of public silence on the crisis in the Ukraine ended as Foreign Minister Avigdor Lieberman and President Shimon Peres met Monday with leading Ukrainian presidential candidate Petro Poroshenko, who secretly visited Israel in recent days, unbeknownst to local media.

A press release published Tuesday said that at the meeting, Lieberman said: "I hope that Russia and Ukraine will also normalize relations soon," saying such a situation was in the world's interests.

Israel has steered clear of choosing sides in the Ukraine crisis, fearing the political ramifications of crossing either the US or Russia. Israeli reluctance to comment on the crisis led the US State Department Spokesperson Jen Psaki to say the US was "surprised" Israel failed to support a March UN vote following Russia's annexation of Crimea.

Lieberman said as much during his meeting with Poroshenko: "Both states (Russia and Ukraine) are very friendly towards Israel, and I wish both nations to return to cooperation as soon as possible," he said.

"Normalization of relations between the two fraternal nations, between the neighbors is our (Israel's) priority," he added, saying he would like to assist such a normalization process.

Touching upon the looming Ukrainian presidential election, the foreign minister expressed his hope that the vote "it will be held in a calm and civilized atmosphere."

Poroshenko is considered pro-Western in Ukraine politics, where he has been a looming figure in recent years, with some calling him one of the most influential forces in the country. His visit could irk Russia, however, in light of its clandestine nature, it could also pass quietly.