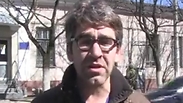 SLAVIANSK - Pro-Russian separatists in eastern Ukraine said on Tuesday they were holding an American-Israeli journalist in the city of Slaviansk and the online news site Vice News said it was trying to secure the safety of its reporter Simon Ostrovsky.
The self-declared separatist mayor of Slaviansk told a news conference his men were holding an American journalist, that according to various media reports also has an Israeli citizenship. Vyacheslav Ponomaryov did not name him but journalists working in the area said Ostrovsky had been detained by gunmen on Monday and, unlike others taken with him, had not yet been released.
Stella Khorosheva, a spokeswoman for the pro-Russian insurgents in the eastern city of Slovyansk, told The Associated Press Ostrovsky is "fine" and is "suspected of bad activities" which she refused to explain. She says the insurgents are holding Ostrovsky pending their own investigation.
Vice News said on its Web site it was "aware of the situation and is in contact with the US State Department and other appropriate government authorities to secure the safety and security of our friend and colleague, Simon Ostrovsky".
Related stories:
The American-Israeli journalist, who produced stories about the Israeli-Palestinian arms race and renegade Jewish settlers for HBO's VICE, has been covering the crisis in Ukraine for weeks. His last posting on Twitter was on Monday when he covered an earlier news conference by the separatist leader.
He noted that during the news conference a woman working with the separatists "called us all liars" and then asked journalists for donations for the funerals of militants who had been killed in a gunfight the previous day.
Graham Phillips, a British journalist from the BBC, uploaded a video to YouTube documenting his attempt to find Ostrovsky, and instead finding militants with automatic weapons. Phillips, who talks to Slaviansk's self-declared mayor, was told Ostrovsky will not be released anytime soon.
The Associated Press contributed to this report.