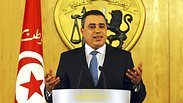 TUNIS - Mehdi Jomaa, the head of the Tunisian government, urged officials on Tuesday to avoid creating controversy on the coming normalization of relations with Israel.

The decision was made with the intention to help boost tourism to the country by making it easier for Israeli Tunisian Jews to make the yearly pilgrimage to El Ghriba Synagogue on the island of Djerba where many visit during the May holiday of Lag BaOmer.

The elected National Constituent Assembly (NCA) recently announced plans to interview the Minister of Tourism Amel Karboul and the Minister for Security, Sfar Ridha, on the entrance of Israeli tourists to Tunisia.

Related Stories

The issue is sensitive in Tunisia as in most Arab countries, where the normalization of relations with Israel is often considered taboo.

Jomaa said that Tunisia must "Make the tourist season a success because tourism is one of the activities that brings immediate cash to the country." Tunisia has been struggling through an economic crisis since the January revolution 2011.

At the opening of an economic conference on Jewish pilgrimage, Jomaa said, "According to the reviews of tourism professionals, the pilgrimage to Ghriba must be successful for the tourist season to be successful."

Jomaa also said that there is no ideological ground to take issue with the ancient Jewish tradition of pilgrimage. "This is a tradition known to us; the pilgrimage has been taking place for years."

In March, Israeli tourists were denied entry to Tunisia during a stop-over in the port of La Goulette, north of Tunis. Their cruise accused Tunisia of "discrimination" which the Minister of Tourism denied citing visa problems.

The Prime Minister pledged Tuesday to "transparency" on the entry procedures of these tourists, promising they would be documented so that there would be no more confusion.

Tunisia has maintained close relations with the Palestinians, hosting the Palestinian Liberation Organization (PLO) headquarters from 1982 to 1994.

In 1996, Tunisia and Israel had opened "offices of interest" in Tel Aviv and Tunis, but in October 2000, Tunis froze these relations in protest against the repression of the intifada.

Upon appointment, the Minister of Tourism has faced sharp criticism because he has visited Israel in the past for professional reasons.