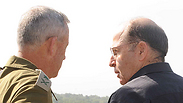 Moshe Ya'alon, right, and Benny Gantz
Photo: Avihu Shapira
Defense Minister Moshe Ya'alon is calling for the accelerated demolition of illegal structures in "violent" settlements and outposts, Army Radio reported Wednesday.

According to the report, Ya'alon made the comments to senior IDF commanders, police officers and civil administration officials in closed-door discussions.

The order applies to those settlements and outposts in which troops have been met with violence, the radio said.

Related stories:
IDF takes over extremist yeshiva in Yitzhar
Last year, Ya'alon promised the Supreme Court that Israel would demolish every new illegal building in the West Bank, before it could be inhabited. As such, the radio said, outposts with unlawful structures that are defined as "violent" will be the first to be bulldozed.

Bayit Yehudi MK Orit Struck, who lives in Hebron, called the move "a draconian decision", Army Radio said.

The IDF has on more than one occasion found itself in conflict with extreme members of the settlement movement. Most recently, the two sides have faced off at the settlement of Yitzhar, where military vehicles have been attacked.

Earlier this month, reservist troops guarding the area had their living quarters and water and electricity supplies destroyed by rampaging settlers after the state demolished an illegal outpost at Yitzhar.