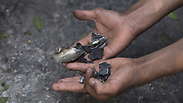 Missile fragments from IDF strike in Gaza
Photo: AFP
Israel Air Force jets fired on a suspected Palestinian terrorist he rode his motorcycle in the northern Gaza Strip on Wednesday afternoon, missing their target and wounding bystanders.
Palestinian Health Ministry spokesman Ashraf Al-Qidra said the air strike wounded 12 people, all of them civilians, among them children between the ages of five and 12, as well as adults.
Shortly after the strike, the "color red" alert for incoming rockets from Gaza sounded in Israeli communities in the southern Hof Ashkelon region.
The IAF attack on Gaza came even as warring Palestinian factions Hamas and Fatah, the respective de facto rulers of the Gaza Strip and West Bank, announced an all-encompassing reconcilation deal that aims to end almost seven years of tensions.
Related stories:
The IAF strike in the northern Gaza town of Beit Lahia had targeted a suspected terrorist wanted by Israel's Shin Bet internal security service, a common practice by the Israeli military. Ynet has learned that the Shin Bet received intelligence of a plan by a terror cell or lone terrorist to launch a rocket at Israel. The air strike took place moments before the rocket was due to launch.
The Israel Defense Forces had no immediate comment.
There was no immediate word on the identities of those wounded in the air strike,
Earlier this week, Gaza militants attempted two attacks on IDF soldiers followed by a rocket barrage on southern Israel.
Yoav Zitun, Reuters and the Associated Press also contributed to this report