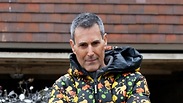 Celebrity psychic Uri Geller is the beaming new face of Israeli disaster-readiness, starring in army-sponsored TV and Internet advertisements on how to take shelter from missile attacks or earthquakes.
Launched on Wednesday, the campaign marks Geller's return to his native country from Britain and aims to keep Israelis vigilant, though public fears of any imminent war with Iran, Syria or Lebanese and Palestinian guerrillas have receded.
Related stories:
"I decided to do something else, to save lives and help emergency preparations in Israel, which my family and I are making our home base after 43 years abroad," Geller told Reuters.
The 67-year-old entertainer was born in Tel Aviv, served in the Israeli Army's Paratroopers Brigade and was wounded in action during the 1967 Six-Day War. He is best known internationally for mental tricks such as bending spoons and stopping watches.
In the ads, Israelis are invited to submit their location at the military's Home Front Command website, where pre-recordings of Geller will "telepathically" inform them where and how quickly to seek cover if air-raid sirens sound.
Such shelters are also meant to provide protection in the event of earthquakes.