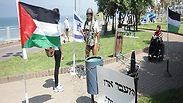 What would you do if you had to serve in an IDF checkpoint?
Photo courtesy of Gisha
A reserve soldier, around 50 years old, stands next to the Erez Crossing sign. He's wearing a helmet and holding a cocked M16 rifle. Yara, a sixteen-year-old girl from Gaza approaches.

"Don't go any further sweetheart. What's in your bag"? He asks her.

"I want to visit my grandmother in Ramallah," she answers.

"Sorry. I can't let you through."

"She's dying. It's my last chance to see her."

"Nothing I can do. These are the rules."




The soldier tried to calm her. He understands her and it's hard for him, but he explains that the law is the law and she has to turn around and go back home now. Yara continues to argue and refuses to leave, and the soldier points his gun at her and says "You have 30 seconds to leave. You leave me no choice." The reserve soldier takes off the bullet proof vest and the gun and says "What a shame. I'm really sorry for her," tears roll down his face. He turns around so we can't see and wipes them off. I signal to the cameraman to stop filming.

This story didn't really happen, only sort of. That is, it happened, but not at the Gaza-Israel border, but on the Bat Yam boardwalk, and not really, but as part of a role play with ordinary people who, just a few minutes before, were on their way shopping, or jogging on the beach, and suddenly found themselves in uniforms, having to deal with the reality of being a soldier at the checkpoint.

Confused? Let's clarify. My name is Itamar Rose and in the last few years I've been making satirical videos, funny in a bittersweet way. The videos are about central conflicts in Israeli society. They are a kind of documented social experiment. I ask random people on the street to give me a few minutes of their time and play a game where I give them a complicated life situation to deal with.

In one of these videos I asked people on the streets of Netanya to do a role play with me. I was the grandfather and they were my family. I told them I couldn't take care of myself anymore and that I'd be happy if they could take me to their home and care for me during my last few years. This was the beginning of a difficult conversation between the grandfather and the family, with some of the people trying to convince me that an old-age home would be better. Others were willing to take me in and others got into a serious argument about "what to do with grandpa".

In another short film, people were asked to deal with a son telling them he's gay. Someone once said my work was a cross between "Candid Camera" and "60 Minutes". The goal is to do something that is thought provoking, that moves people, shocks them, makes them laugh and makes them angry all in a five-minute movie. In my last video, part of which I described above, I asked people on the street to play a soldier at Erez Crossing and deal with a tough, but very routine situation. Someone who lives in Gaza and wants to visit her sick grandmother in Ramallah, but can't do it because it's against the rules. The idea came up after a meeting with staff members of Gisha, an Israeli NGO that promotes the freedom of movement of Palestinians. On paper, it sounds simple, but how do you get people to agree to participate in something like this?
7 am, Friday, Bat Yam Boardwalk
I show up at the boardwalk with two cameramen, one soundman and two actresses. Yara, a young woman from Jaffa will play a 15-year-old Palestinian from Gaza who wants to visit her dying grandmother. Aviva, from Ashdod, will play the sick grandmother living in Ramallah. According to the rules, only first degree relatives can meet.

To turn Bat Yam's boardwalk into something resembling the Gaza Israel border crossing, I put up a small section of barbed-wire fencing with an Israeli flag on one side and a Palestinian flag on the other. Now all we need is to find people who would be willing to spare a few minutes and play a little game on a Friday morning – playing soldiers at Erez Crossing.




That's it. We get to work. I ask a few passersby to participate in a video segment I'm filming. After a few people bolt as soon as they see the camera, before I even get to explain what I'm asking for, I manage to get an older man who stops to talk to me. He seems into it.

I take him over to the "post". When he sees the Palestinian flag he says: "Why are you putting their flag here? At least don't put Israel's flag next to them. In Bat Yam this stuff could really cost you. Some people here are really nuts. If I were you I'd take this flag and get out of here."

I try to explain that the flag, the barbed wire, the uniforms and the gun are just props in a play, so there's nothing to get angry about. This play isn't meant to say what's right and what isn't, who's right and who's wrong, who's good and who's evil, I explain. This role play is just meant to give ordinary citizens the opportunity to be in the – uncomfortable – shoes of our children who serve as soldiers in checkpoints.

I go back to the makeshift border crossing. We have our first participant! I put a helmet and a bulletproof vest on her. I hand her an M16 rifle, which she proceeds to wear across her body with admirable professionalism.

I explain the rules: "You're a soldier at Erez Crossing. Palestinians who want to go to the West Bank come to this crossing. You have to check everyone who comes to the crossing and then decide whether to let them through or send them back. You decide what you feel is right. Go with your heart. I'm your CO, I count on you 100%, and I have your back whatever you decide".

I salute the soldier and let her guard the border. The game begins. The participant-soldier stands, alert, looking toward Gaza (Bat Yam beach). A young woman comes up the stairs. She's wearing school uniforms and has a backpack. When she comes close to the checkpoint, the woman yells: "Stop. Stop. Don't come any closer."

The woman skilfully searches the bag and when everything checks out, she asks "So what are you doing here"?

"I'm here to visit my grandmother in Ramallah. She's dying." The woman explains that there's nothing she can do and that she can't let her pass. Yara insists, and the woman-soldier points her gun at her and says "Don't give me any trouble. Come on. Turn around. Go home".

The first segment is on tape. I put another passerby in army uniforms and explain the rules. I tell him I'm counting on him at the border and then… a police car. The officers come out and say they got a call. I make up a story that we're filming an episode for a new show on Channel 10 where people on the street have to play different conflict situations, and this time, they're soldiers at a checkpoint. Despite some heckling from the backgammon players not far away, one of the officers calms them down and explains that there's freedom of expression and that if we want to shoot a film with a Palestinian flag, we can, even if it annoys him personally.





The police officers go on their way and we continue, despite the comments from the backgammon players, who are now bothered not just by the flag, but also by the old Arab lady in the wheelchair. When they find out she's actually a Moroccan Jewish grandmother from Ashdod, the tension drops and we go on.

An older lady stands with the weapon at the ready and waits. Yara arrives. She tells her about her sick grandmother. The woman listens. She understands. She explains, but she can't let her pass. "Can you pass her a message from me," Yara asks, "I can tell her." "I'll do it," the soldier promises. "So, tell her, 'grandma, I love you. Be strong.' And give her a big hug."

"I'm sorry, I'm really sorry", the woman says, looking away uncomfortably. Yara leaves and the woman goes to the other side of the checkpoint. She comes up to the grandmother who's waiting there, and explains that she couldn't let Yara through. "I'm sorry. It's the law. Sorry." The grandmother is sad. The woman goes over to her, hugs her and says "A hug from Yara. You'll be OK. Be strong." They stay embracing for a while. The woman strokes the grandmother's face.

In the meantime, in the reality outside the video, I notice none other than Shlomi Lahiani, Bat Yam's mayor, making his way toward us. "What are you doing here? Is this a demonstration? Can't you see it's bothering people"? he asks.

I go for the made-up story that worked with the officers in the previous incident. The second Lahiani hears "a show on Channel 10" his tone changes. He wishes us good luck and goes on his way. I stop to think for a second. The camera crew and the actresses are unnerved by the whole scene. It's impossible to go on this way. We decide to get out of there and continue in Gan Meir in Tel Aviv.
3 pm, Gan Meir, Tel Aviv
We set up the checkpoint again in Gan Meir and start shooting. Three girls who play the soldier in succession reject Yara's request on various grounds: "Things happen every day which follow protocol but are against humanity. There's protocol and that's it."


"You can't get through now. Try next week", says one of the soldiers.

Yara: "What do you mean? What if she's not around in a week?"

Soldier: "So she isn't. People come and go. Just like money. There's nothing you can do."

Two young men play the soldiers together. When Yara approaches, they point the gun at her, ordering her to stop where she is. "My grandmother is in Ramallah, she's dying, let me through," she says. "Who gives a damn? You're not going anywhere", the soldier responds. Despite warnings, Yara approaches.

The soldier gets agitated. "Shoot her, shoot her" he tells his friend. The friend lifts up the M16, points it at Yara's chest, pulls the trigger and yells "Boom, boom, fire".

The last participant introduces herself as a long-time member of the Likud party. When Yara approaches, she goes into a passionate speech about how corrupted Suha Arafat and senior Hamas officials are; how they embezzle the money the world sends to Gaza and leave Palestinians hungry. After a long argument, the die-hard Likud member tells Yara "because I checked you, and I think that you're really going to your grandmother and you don't have anything on you. I'm letting you through."

Yara hesitates, "Everything is OK. Go in," the soldier says. She gives Yara a hand, helps her cross the checkpoint and hugs her goodbye.

I tell the Likud voter that according to protocol, people who are not first degree relatives (mother, father, kids) can't travel from Gaza to the West Bank and back, and so in the real world, she might have been court-martialed. She puts her hand on me and says: "What do you want me to do? She's just a sweet kid going to visit her grandmother."