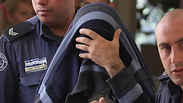 Ilan Shmuel in court
Photo: Gil Yochanan
A driver for the Prime Minister's Office was arrested in Jerusalem three weeks ago on suspicion of serially raping young girls between the ages of 8 and 12, it emerged Thursday.

Ilan Shmuel, 52, from Moshav Zekharia, near Beit Shemesh, has had 12 complaints made against him, the police said. He is suspected of raping members of his own family over a period of many years.

A gag order had been placed on the name of the suspect Wednesday, but police asked Thursday for his name to published, in the hope of encouraging any additional victims to come forward. Police also said Shmuel had admitted some but not all of the charges against him.

Shmuel's attorney, Shai Levy, said Wednesday that his client had yet to see all the evidence against his client.

"The serious allegations are being investigated by police as we speak," Levy said, adding that Shmuel denies "the majority of the offenses, admits to some of the allegations and regrets them."

The Prime Minister's Office said that the driver has not been part of Netanyahu's motorcade for more than six months. The Office was informed of the investigation in March and was advised to place Shmuel on leave.

Attila Somfalvi contributed to this report.