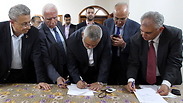 Fatah-Hamas unity deal
Photo: Reuters
Hamas has not yet decided whether it will maintain its preferred policy of violent resistance to Israel following the announcement of a unity agreement with Palestinian rival Fatah, a senior official in the organization told Ynet on Thursday.
Ghazi Hamad, Hamas' deputy foreign minister in its Gaza government, was speaking a day after the two organizations signed a far-reaching reconciliation agreement, ostensibly ending more than six years of brutal internecine fighting.
"We will discuss this – among other issues – at the negotiations between Fatah and Hamas," Hamad said.
He said, however, that Hamas is certain that Israel lacks any desire to reach an agreement with the Palestinians.
Related stories:
"We are all convinced Israel doesn't want peace, it doesn't want to see a Palestinian state."
Nonetheless, he said, Hamas would accept a Palestinian state within the 1967 borders, adding that Israel's agreement on this issue could lead to a drastic shift in the conflict.
"As we have said, we want a Palestinian state with the 1967 borders, Ghazi Hamad, the deputy foreign minister in Hamas's Gaza government, told Ynet. "If (Israel) is willing to accept this, the entire situation will change."
The deal includes a demand for Hamas to abide by previously signed agreements with Israel, but Hamad balked Thursday at the notion that the group recognize Israel.
"Recognition will be between two states," he told Ynet. "You don't need organizations to recognize Israel. It's enough that the Palestinian Liberation Organization – the representative of the Palestinian people – recognizes the State of Israel. Besides, (Israel) has yet to recognize the rights and borders of a Palestinian state."
Hamad also dodged the issue of Hamas support for Fatah's current participation in the peace process with Israel, saying that the issue had yet to be decided.
"Our conduct on the political situation will be decided after negotiations with Fatah, which will aim to unite our agenda," he said.