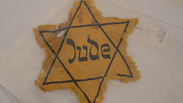 Star of David badge forcibly worn by Jews during the Holocaust
Photo: Mohamed Shinawi
The Education Ministry on Thursday published a new planned curriculum to teach Israel's schoolchildren about the Holocaust, including those of kindergarten age.
Under the new plan, entitled "For The Memory", kindergarten teachers will choose "an appropriately tailored approach to presenting Holocaust Remembrance Day to the kindergartners, depending on their respective stages of development, the knowledge they bring from home, their personalities, and their sensitivity."
The statement from the Education Ministry said that, "in preparation for the siren (announcing the start of Remembrance Day), the children will be taught that (this) is a day on which we want to remind people of the difficult times experienced many years ago."
Officials at the Education Ministry explained that the "guidance directives for kindergarten instructors clarified the need to avoid using means that include threatening content based on physical demonstrations like simulations and shows, which expose the kids to experiences of identification, and picture displays, which may create fear."
The Education Ministry said the subject was to be discussed before and after the siren, but that the daily activities of the kindergarten were to resume as usual.
The plan was consolidated by a joint committee of the Education Ministry and the International School for Holocaust Studies at Israel's Yad Vashem Holocaust museum, which included experts in the field of Holocaust instruction, educational teams, psychologists, and educational consultants.