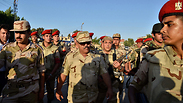 Egyptian soldiers near Rafah
Photo: AFP
Egypt's military said Thursday that it has gained "complete control over the situation" in the Sinai Peninsula, where Islamist insurgents have been carrying out attacks against security forces for several months.

Violence has spiraled in the Sinai since last July when the army toppled President Mohamed Morsi of the Muslim Brotherhood, prompting militants who had primarily focused on attacks against neighboring Israel to also turn their attention to Egyptian police and military targets.

"There is obvious stability in Sinai despite rumors that there are still terrorist elements and tunnels in north Sinai," said Major General Mohamed al-Shahat, who heads Egyptian forces in the peninsula, in comments carried by state news agency MENA.

Related stories:

A recent Reuters investigation found that a few hundred militants – a mix of Egyptian Islamists, foreign fighters and disgruntled youth – are successfully playing a cat-and-mouse game with Egypt's army and are nowhere near defeat.

Days after the report was published, Field Marshal Abdel Fattah al-Sisi, who has since resigned his post to run for president, removed the top military official in the Sinai and appointed Shahat to replace him.

Sisi, who ousted Morsi in July following protests against his rule, is widely expected to win presidential elections scheduled for May 26-27.

Shahat spoke to reporters on the 32nd anniversary of the final Israeli withdrawal from the Sinai, which its forces had invaded in 1956 after Egypt nationalized the Suez Canal.

He said the army had destroyed more than 1,500 tunnels that ran under the frontier between Egypt and the Gaza Strip, which borders North Sinai, in an attempt to stop the illegal flow of arms.

The Sinai is a largely lawless 61,000 sq km (24,000 sq mile) area wedged between the Suez Canal to the west and Israel and Gaza to the east.

Militant attacks in Sinai, Cairo and other cities since July have killed around 500 people, mostly policemen and soldiers, according to the government.