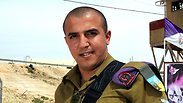 Twenty-one-year-old Sergeant Adham Saab dreamt of volunteering to serve in the IDF since the age of 10, but it was just two years ago, one month after beginning his service, that his dream became a nightmare when he was attacked in his village by more than 10 men who dissaproved of his choice to serve.

Saab is a member of Israel's Bedouin community. Exempt from required military service, some Bedouin youths still volunteer for service, where they gain training that can be used to find jobs after finishing the army. For Saab, the dream began at a young age.

"When I was 10-years-old, a family member of mine was a soldier. I saw him on weekends with his rifle and his uniform and I wanted to be like him," said Saab Wednesday with a nostalgic smile.

Related stories:

Saab was 19-years-old when he found his way to the recruitment office in Tiberias on the Kinneret and requested to serve in the Israel Border Police.

When he returned home from his first month of service, Saab found that not everyone was ready to welcome him home.

"A month after joining, I came home from boot-camp. On Friday, after I left for a family feast, I was attacked by more than 10 people," Saab said, recounting the moments of terror.

"They cursed at me and yelled, 'bastard soldier' and then they hit me in the head with a metal bar and I lost consciousness," said Saab. "I haven't been back to my village since the attack."

"It was decided that I would live in the Soldier's Hostel in the center of Israel so that no one would attack me... my family left the village after a few months and moved to the North," said Saab.

Tzvika Levi, responsible for organizing living situations for Lonely Soldiers on kibbutzim, met with Saab about his situation.

"I knew that I had to find Adham a warm home on a kibbutz. It's inconcievable that a young Arab who volunteered to serve in the IDF would be in life-threatening danger in Israel. I found him a warm and loving family on Kibbutz Nir-Eliyahu," said Levi.

"Now every time he's on vacation he will have a warm, loving home and he can eat on the kibbutz. If he wants he can even find work there. Every soldier who is in danger of attack in his home town like Adham can find a family on a kibbutz," said Levi.

Though he wasn't allowed to join the Border Police, Saab still realized his dream of becoming a soldier and serves near Kerem Shalom in a unit specifically for Bedouin volunteers where they guard Israel's southern border with Gaza.