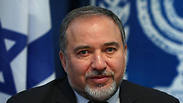 Lieberman
Photo: Foreign Ministry
Israel played down on Thursday suggestions that anti-Semitism in Ukraine is linked to Kiev's standoff with Russia, offering a more measured assessment than the Kremlin or the United States as it avoids taking sides in the East-West confrontation.

Moscow has aimed allegations of anti-Semitism against the pro-Western Ukrainian government. Washington has condemned an incident in a city with a strong pro-Russian movement where Jews were handed leaflets using language reminiscent of the Holocaust.

Foreign Minister Avigdor Lieberman rejected a connection between the five months of unrest and the situation of Ukraine's 200,000 Jews.

Related stories:

"There is no specific action against Jews which is an outcome of the political crisis," said Lieberman, a Russian-speaker who grew up in Moldova when it was a Soviet republic.

"What there is, as happens to my regret in every country, is a phenomenon of anti-Semitism which is not necessarily linked to the political events but which, given the political events, of course receives unusual attention," he told Israel Radio.

Anti-Semitism remains a feature of militant nationalism in both Ukraine and Russia. During unrest that saw the overthrow of Kiev's Kremlin-backed president in February, several attacks on Jews and synagogues were blamed on Ukrainian far-right groups.

The Jewish state has tried to keep out of the crisis, wary of upsetting its crucial US ally or Russia, which is influential in the Middle East flashpoints Iran and Syria.

That has entailed turning down appeals from some Ukrainian Jewish leaders for a public stand against Russia and even the dispatch of Israeli security experts. The community is itself divided between Kiev and pro-Russians in Crimea and other southeastern areas.

US Secretary of State John Kerry denounced as "intolerable" and "grotesque" the distribution in the eastern Ukrainian city of Donetsk of leaflets during Passover last week that appeared to call on Jews to register with the self-declared new separatist authorities occupying local government offices.

US Vice President Joe Biden, making a solidarity visit to Kiev on Tuesday, said anti-Semitism and bigotry "can have no place in the new Ukraine".

The leaflets revived memories of the Holocaust, when Ukraine's once large Jewish population was devastated. Pro-Russian separatists in Donetsk, however, dismissed them as a forgery designed to smear them, and the city's chief rabbi said it was not clear who was behind the incident.

Citing a labor dispute by its diplomats, Israel sat out a vote by the UN General Assembly on March 27 declaring invalid a Moscow-backed referendum in Crimea on seceding from Ukraine. The US State Department voiced "surprise" at the Israeli inaction.

Israel has also played down Ukrainian media reports that Simon Ostrovsky, a US journalist detained on Monday by the separatists, also holds Israeli citizenship. An Israeli diplomat told Reuters the government was "working on the assumption" that Ostrovsky was indeed a dual national but preferred Washington to take the lead in securing his release.

Lieberman, who has helped to mastermind Prime Minister Benjamin Netanyahu's policy of closer relations with Russia, made no apology for the government's fence-sitting on Ukraine.

"We don't lack challenges and conflicts and I don't advise that we force ourselves into others," he said. "There are such truly major players there - Russia and the United States and Ukraine - so let's make do with the challenges facing us and not look for new challenges."