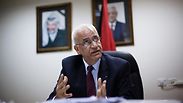 Palestinians to consider 'all options' in response to Israeli decision to halt talks
'Netanyahu and his government used the Palestinian division as an excuse not to make peace. Now they want to use the Palestinian reconciliation as an excuse for the same purpose. This is very stupid,' PLO negotiator Erekat says.
The Palestinian leadership will consider "all options" in response to Israel's decision to suspend peace talks and impose new sanctions on the Palestinians, Palestinian chief negotiator Saeb Erekat said on Thursday.
The Israeli government announced its decision Thursday in response to Fatah and Hamas' announcement Wednesday on a reconcliation agreement that would lead to the formation of a unity government within the next five weeks.
"Benjamin Netanyahu and his government used the Palestinian division as an excuse not to make peace. Now they want to use the Palestinian reconciliation as an excuse for the same purpose. This is very stupid. The only logical conclusion is that the Netanyahu government doesn't want peace," Erekat accused.
Related stories:
"During the past nine months of talks, the Netanyahu government has eccelerated the construction in settlements, the destruction of (Palestinian) homes, the killings, the arrests and the military operations," he said.
"Netanyahu refused to provide a map showing us where the borders of the State of Israel will be. The Israeli government also refused to recognize Palestine's right to exist in the 1967 borders, despite the fact the Palestinian Liberation Organization (PLO) recognized Israel 26 years ago," he added.
"As soon as we sign a national reconciliation agreement and have a diplomatic plan that recognizes all of the agreements signed between Palestine and Israel, Netanyahu and his government accuse us of the failure of talks," Erekat concluded.
Wasel Abu Yousef, a top PLO official, rejected what he called "Israeli and American threats" and said a Palestinian unity government would be comprised of technocrats.
Palestinian leaders have already made clear they would seek to further their bid for nationhood via unilateral moves to join various international bodies and United Nations agencies.
The biggest threat for Israel could come in the shape of the International Criminal Court, with the Palestinians confident they could prosecute Israel there for alleged war crimes tied to the occupation of lands seized in 1967.
Israel already halted transferring tax and customs money it collects on the Palestinians behalf, worth some $100 million a month. Those funds help keep Abbas' self-rule government afloat.
Abbas won assurances in recent Arab League meetings that Arab countries would pay $100 million to the Palestinian Authority if Israel freezes the monthly transfers. However, some of the Arab donor countries have in the past not met their aid commitments.
"Israel had no right to interfere in this issue," Erekat said. He condemned any possible Israeli sanctions as "piracy," saying the tax revenues are Palestinian money.
Abbas took a big gamble in approaching Hamas. The US and the European Union consider Hamas a terrorist group, and could conceivably cut off some of the hundreds of millions of dollars in aid they give the Palestinians each year in response.
Earlier in Washington, a US official said the United States would have to reconsider its assistance to Abbas's aid-dependent Palestinian Authority if the Western-backed leader and Hamas formed a government, after seven years of internal bickering and unsuccessful reconciliation attempts.
Asked whether the new reconciliation moves with Hamas would incur promised US sanctions, PLO Deputy Secretary Yasser Abed Rabo told Palestinian radio it was too soon to penalize a government that had yet to be formed.
"There's no need for the Americans to get ahead of themselves over this. What happened in Gaza in the last two days is just a first step which we welcome and want to reinforce," he said.
"But this step shouldn't be exaggerated, that an agreement for reconciliation has been completely reached... We need to watch the behavior of Hamas on many details during the coming days and weeks on forming a government and other things."
AFP, Associated Press, Reuters and Ynet contributed to this report.