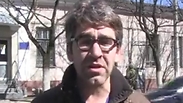 MOSCOW - An American-Israeli journalist who was held by pro-Russia insurgents in eastern Ukraine for several days said he has been released and is in good condition.
Simon Ostrovsky of Vice News told The Associated Press in a brief call Thursday that he had been freed and was heading to Donetsk, the largest city in Ukraine's tumultuous east. He did not give details of his seizure or his release.
The Self-declared separatist mayor of Slaviansk Vyacheslav Ponomaryov told reporters on Wednesday that Ostrovsky had been detained for reporting what he said was false information that was "destabilizing for us".
Gunmen detained Ostrovsky on Monday night along with a number of other reporters who have since been released. New York-based Ostrovsky immigrated to Israel three years ago, but returned to the US to work for Vice.
"Vice News is delighted to confirm that our colleague and friend Simon Ostrovsky has been safely released and is in good health," read a statement on its Web site on Thursday.
No information was immediately available from the separatists, who have said they hold several people.
Michal Margalit, Reuters and the Associated Press contributed to this report.