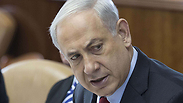 Inside Security-Cabinet
Photo: AFP
News of a Palestinian unity government threatened to derail already faltering peace talks, with Israel deciding to "suspend" peace talks in response to the move and launch an information campaign against Hamas and Palestinian President Mahmoud Abbas.

Prime Minister Benjamin Netanyahu convened his inner security cabinet Thursday morning for a six-hour session to discuss Israel's response to the reconciliation announcement between rival Hamas and Fatah.

Insiders say Netanyahu had agreed to Abbas' demands for extending peace talks - a three month settlement freeze in which time the parties would talk final border arrangements - but back tracked after the unity deal was announced.

"The Cabinet today unanimously decided that Israel will not negotiate with a Palestinian government backed by Hamas, a terrorist organization that calls for Israel's destruction," a statement released by the Prime Minister's Office said. "In addition, Israel will respond to unilateral Palestinian action with a series of measures."

Watch Israel's anti-Abbas campaign

However, the supposedly unified Israeli response came after a tense cabinet meeting which strained already shaky coalition relations, and which could have resulted in a more severe response.

At the end of the session, one of its participants described it as "long and exhausting," with cabinet members arguing for hours on the exact wording of the statement and nature of the sanctions.

Justice Minister and Chief Israeli negotiator Tzipi Livni was adamant in her demand that the Israeli response be moderate and leave room for the renewal of talks should the Palestinian unity agreement fail to be implemented.

On the other hand, Netanyahu and Bayit Yehudi Chairman Naftali Bennett pushed for something more severe, and wanted to bar any direct talks with Abbas.

Livni's persistence was what prolonged the meeting and resulted in "measured" sanctions which "will not cause the Palestinian Authority to collapse," as Livni later described them.

Related stories:

In an interview with MSNBC after the security cabinet meeting, Netanyahu appeared to have moved closer to Livni's position and seemed to leave open a window for future talks if Abbas reversed course or reconciliation with Hamas, seen by the West as a terrorist group, fell through.

"I hope (Abbas) changes his mind," Netanyahu said. "I will be there in the future if we have a partner that is committed to peace. Right now we have a partner that has just joined another partner committed to our destruction. No-go."

Bennett for his part called the decision to halt peace talks a "balanced and right," adding that "You don't talk to murderers."
IDF urges moderation
During the session, a number of possible sanctions against the PA were suggested, but the possibly dangerous implications they could entail as presented by security officials – namely IDF Chief of Staff Lt. Gen. Benny Gantz and Militry Intelligence Chief Aviv Kohavi – were what eventually led the government to compromise and opt for limited economic sanctions coupled with a suspension of peace talks and the anti-PA campaign.
In a week, Israel is expected to transfer millions of dollars in funds to the Palestinian Authority, only then will the extent of the economic sanctions be truly known.
Security officials present at the meeting noted that during the last time Israel froze fund transfers to the PA, during Netanyahu's previous government, the result was that thousands of PA security men did not receive pay checks and the PA's security apparatus suffered from a cash shortage which threatened its day-to day-operations.
During the session, the IDF expressed fear that too harsh of a response would harm the PA's motivation to keep the peace in the West Bank by curbing radical forces like Hamas and Islamic Jihad.
The IDF further noted that this is not confined solely to security measures, as the PA also works to block Hamas' welfare and education organizations from taking root in the PA-ruled territory, in addition to arresting its local operatives and confiscating their arms.
Just last week, PA forces raided an Islamic Jihad arms cache in Jenin and arrested its operatives after a short exchange of gun fire.
The growing concern is that if the reconciliation deal between Hamas and Fatah were to actualize, and peace talks failed to yield any fruit, then Israel's security interests in the West Bank would be harmed.
Open door
Livni said she hoped a way could be found to return to talks. "The door was not closed today," she told Israel's Channel 2 television.
Wasel Abu Yousef, a top Palestine Liberation Organization official, rejected what he called "Israeli and American threats" and said a unity government would be made up of technocrats.
But Netanyahu dismissed any notion that Hamas would not be the real power behind the bureaucrats.
The Israeli-Palestinian negotiations, championed by Kerry and aimed at ending decades of conflict and creating a Palestinian state in the occupied West Bank and Gaza Strip, began in July amid strong public skepticism in Israel and the Palestinian territories.
The two sides were also at odds over Israeli settlement construction in the West Bank and East Jerusalem, activity most countries deem illegal in areas captured in the 1967 Middle East war, and over Abbas's refusal to accept Netanyahu's demand he recognize Israel as a Jewish state.
For Netanyahu, Abbas's approach to Hamas offered an opportunity to withdraw from the negotiations with a reduced risk of a rift with the United States, Israel's main ally, which also refuses to deal with the Islamist militant group.
A suspension of the talks, while casting blame on the Palestinian reconciliation venture, is also likely to calm far-right allies in Netanyahu's governing coalition who oppose the creation of a Palestinian state and territorial compromise.
For Abbas, whose official mandate as president expired five years ago, an alliance with Hamas leading to a new election potentially strengthening his political legitimacy could outweigh the prospect of any international backlash.
Palestinians have also been angered by Israel's announcement during the negotiations of thousands of new settler housing units and what they say was its failure to tackle substantive issues such as the borders of a future state.
Asked whether the reconciliation with Hamas would incur promised U.S. sanctions, PLO Deputy Secretary Yasser Abed Rabo told Palestinian radio it was too soon to penalize a government that had yet to be formed.
"There's no need for the Americans to get ahead of themselves over this. What happened in Gaza in the last two days is just a first step which we welcome and want to reinforce," he said.
"But this step shouldn't be exaggerated, that an agreement for reconciliation has been completely reached... We need to watch the behavior of Hamas on many details during the coming days and weeks on forming a government and other things."
In Washington, a US official said the United States would have to reconsider its assistance to Abbas's aid-dependent Palestinian Authority if the Western-backed leader and Hamas formed a government.
US Secretary of State John Kerry spoke by telephone with Abbas on Thursday and expressed his disappointment at the reconciliation announcement.
Kerry stressed that any Palestinian government must abide by the principles of nonviolence, recognition of the state of Israel, and acceptance of previous agreements and obligations, State Department spokeswoman Jen Psaki said.
Kerry, who has shuttled repeatedly to the Middle East to push peace efforts, said he was not giving up hope.
"There's always a way forward, but the leaders have to make the compromises necessary to do that," he told reporters.
"We will never give up our hope or our commitment for the possibilities of peace. We believe it is the only way to go. But right now, obviously, it's at a very difficult point and the leaders themselves have to make decisions. It's up to them."
Elior Levy and Reuters contributed to this report