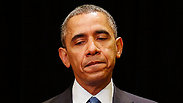 Obama: Both Palestinians, Israelis have shown lack of will in talks
Photo: Reuters
President Barack Obama said a pause in peace negotiations between Israel and the Palestinians might be in needed so both sides can consider the alternative to negotiating and claimed the recent halt in talks underscores how neither side has shown the political will to make tough decisions that would sustain the talks.
"So far we have seen some movement on both sides to acknowledge that this is a crisis long-running that needs to be solved," Obama said. "What we haven't seen is frankly the kind of political will to actually make tough decisions. And that's been true on both sides."
Obama described the reconciliation agreement between the Palestinian Authority and the militant group Hamas as "unhelpful" and said it was "just one of a series of choices that both the Israelis and Palestinians have made that are not conductive to trying to resolve this crisis."
"Folks can posture, folks can cling to maximalist positions, but realistically there is one door and that is the two parties getting together and making some very difficult political compromises in order to secure the future of both Israelis and Palestinians for future generations," Obama said.
"Do I expect that they will walk through that door next week, next month or even in the course of the next six months? No."
While he said the US would continue to offer the parties "constructive approaches," he also conceded that "there may come a point at which there just needs to be a pause and both sides need to look at the alternatives."
Obama acknowledged a peace deal had always been a "long shot" for his administration, which failed in a first-term peace initiative. But he insisted, "I make no apologies."
Obama made his remarks during a news conference with South Korea's President Park Geun-hye, a day after Israel broke off Mideast peace talks in protest of the Palestinian Authority and Hamas agreement.
Related stories:
The US said Thursday it is not ready to write off Mideast peace negotiations as failed, even after Israel broke off talks with Palestinian leaders who are trying to create a coalition government with the Hamas group.
US Secretary of State John Kerry said Israeli and Palestinian leaders need to make necessary compromises so that the nine months of negotiations can continue after an April 29 deadline. If they won't, he said, peace "becomes very elusive."
"There is always a possibility to advance, but leaders need to make compromises ... If they do not wish to make the necessary compromises, it will become very difficult," the top diplomat told reporters.
State Department spokeswoman Jen Psaki refused to declare the negotiations over and said the US is "still making the effort."
Psaki noted that both Israeli and Palestinian officials have each taken unhelpful steps and caused setbacks throughout nine months of negotiations. She said it's ultimately up to both sides to decide if they want to continue the talks.
"We view it was essential that both parties exercise maximum restraint and avoid escalatory steps," she said. "There have been many ups and downs in the process," Psaki told reporters.
She said Secretary of State John Kerry spoke Thursday with Palestinian President Mahmoud Abbas and expressed his disapproval of the plans to create a reconciliation government with Hamas, which is considered a terror organization by the US, European Union and other nations.
"The secretary noted that he was disappointed by the reconciliation announcement and repeated the elements that any Palestinian government would need to have the same principles that President Abbas has long supported," Psaki said.
"The three principles are, of course, commitment to non-violence, recognition of the State of Israel and acceptance of previous agreements and obligations between the parties," she elaborated.
Inside Israel's move to freeze peace talks
News of a Palestinian unity government threatened to derail already faltering peace talks, with Israel deciding to "suspend" peace talks in response to the move and launch an information campaign against Hamas and Palestinian President Mahmoud Abbas.
Prime Minister Benjamin Netanyahu convened his inner security cabinet Thursday morning for a six-hour session to discuss Israel's response to the reconciliation announcement between rival Hamas and Fatah.
Insiders say Netanyahu had agreed to Abbas' demands for extending peace talks - a three month settlement freeze in which time the parties would talk final border arrangements - but back tracked after the unity deal was announced.
However, the supposedly unified Israeli response came after a tense cabinet meeting which strained already shaky coalition relations, and which could have resulted in a more severe response.
At the end of the session, one of its participants described it as "long and exhausting," with cabinet members arguing for hours on the exact wording of the statement and nature of the sanctions.
Justice Minister and Chief Israeli negotiator Tzipi Livni was adamant in her demand that the Israeli response be moderate and leave room for the renewal of talks should the Palestinian unity agreement fail to be implemented.
On the other hand, Netanyahu and Bayit Yehudi Chairman Naftali Bennett pushed for something more severe, and wanted to bar any direct talks with Abbas.
Livni's persistence was what prolonged the meeting and resulted in "measured" sanctions which "will not cause the Palestinian Authority to collapse," as Livni later described them.
In an interview with MSNBC after the security cabinet meeting, Netanyahu appeared to have moved closer to Livni's position and seemed to leave open a window for future talks if Abbas reversed course or reconciliation with Hamas, seen by the West as a terrorist group, fell through.
"I hope (Abbas) changes his mind," Netanyahu said. "I will be there in the future if we have a partner that is committed to peace. Right now we have a partner that has just joined another partner committed to our destruction. No-go."
Bennett for his part called the decision to halt peace talks a "balanced and right," adding that "You don't talk to murderers."
Attila Somfalvi and Reuters contributed to this report