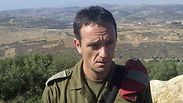 Herzl Halevi
Photo: Yoav Zitun
The IDF has announced a string of new appointments: Brig. Gen. Herzl Halevi, who the New York Times dubbed Israel's 'philosopher-general', will be promoted to the rank of major general and serve as the head of AMAN – the Military Intelligence Directorate.

He will replace Maj. Gen. Aviv Kochavi who will head the IDF Northern Command, replacing Maj. Gen Yair Golan.

IDF Chief of Staff Lt.Gen. Benny Gantz announced the appointments Friday and were confirmed by Defense Minister Moshe Ya'alon, before coming into effect later this year.

In addition, Brig. Gen. Hagai Topolansky will leave his current position as the head of the Air Force General Command to head the IDF's Manpower Directorate. He will replace Maj. Gen. Orna Barbivai, the first female to reach such a rank in the IDF, who is set to retire this year.

Related stories:

Halevi, 47, currently serves as head of the Command and Staff College. Halevi previously commanded the IDF's elite Special Forces Unit – Sayeret Matkal – and the Paratroopers Brigade. The new role will return Halevi to Military Intelligence, where he once served as the head Operations Division.

In a profile by the New York Times he was named "a top candidate to someday lead the military as chief of staff." A year and a half ago, while commanding the Galilee Division, he was offered the role of Prime Minister Benjamin Netanyahu's military attaché, but turned it down – instead, he accepted Gantz's offer to head the prestigious Command and Staff College.

Halevi, born in Jerusalem, holds a bachelor's degree in philosophy and business administration and a master's degree in logistics.

Kochavi, who will head the IDF's Northern Command, was appointed director of Military Intelligence in 2010 after serving in a number of senior roles including commander of the Gaza Division.