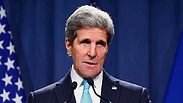 WASHINGTON – US Secretary of State John Kerry believes the effort to bring peace to Israel and the Palestinians is now in a holding pattern and the two sides need to decide what to do next, the US State Department said on Friday.

"His view is this is a moment of transition and part of the process. We are in a holding period where parties need to figure out what is next," State Department spokeswoman Jen Psaki told reporters.

"We have always thought there could be a point where we needed to pause and both sides needed to look at what was possible. And we're clearly at that point now."

Related stories:

Earlier Friday President Barack Obama said a pause in peace negotiations between Israel and the Palestinians might be in needed so both sides can consider the alternative to negotiating and claimed the recent halt in talks underscores how neither side has shown the political will to make tough decisions that would sustain the talks.

"So far we have seen some movement on both sides to acknowledge that this is a crisis long-running that needs to be solved," Obama said. "What we haven't seen is frankly the kind of political will to actually make tough decisions. And that's been true on both sides."

Obama described the reconciliation agreement between the Palestinian Authority and the militant group Hamas as "unhelpful" and said it was "just one of a series of choices that both the Israelis and Palestinians have made that are not conductive to trying to resolve this crisis."

While he said the US would continue to offer the parties "constructive approaches," he also conceded that "there may come a point at which there just needs to be a pause and both sides need to look at the alternatives."

Reuters and the Associated Press contributed to this report.