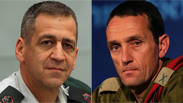 Herzl Halevi and Aviv Kochavi
Photo: Alex Kolomoisky
The wave of appointments and promotions that swept IDF command Friday morning raised a number of questions regarding the future of the General Staff.

The four appointments announced earlier in the day, submitted by IDF Chief of Staff Benny Gantz and approved by Defense Minister Moshe Ya'alon, will come into effect in the summer. But the appointments of Brig. Gen. Herzl Halevi to Military Intelligence chief and Maj. Gen. Aviv Kochavi to head of IDF Northern Command may hint at the identity of the next deputy chief of staff.

Given this particular shuffle, the current head of IDF Northern Command, Maj. Gen. Yair Golan – serving in his second general command posting – becomes the likely candidate to replace deputy chief of staff Maj. Gen. Gadi Eizenkot, who is considered the leading candidate to take on the role of chief of staff when Gantz steps aside in 2015.

Related stories:

But the chain of changing appointments that would lead to this result may be shattered depending on the results of the investigation into a corruption affair involving the appointment of former IDF Chief of Staff Gabi Ashkenazi's successor.

Defense Minister Moshe Ya'alon will take Eizenkot's relation to the affair into consideration when making his selection; his decision on the Harpaz affair is expected in the fall.

Former deputy chief of staff, Maj. Gen. Yair Naveh, is also being considered for the top IDF position, but his prospects are dim – which may force Ya'alon to seek government approval to extend Gantz's term by a year as he searches for experienced candidates.

There was one notable name absent in Friday's announcement, head of IDF Central Command Maj. Gen. Nitzan Alon, who has served two years in the prestigious position. Alon has risen quickly through the upper echelons of command, serving only two years as commander of Judea & Samaria Division before being promoted to Central Command chief.

Since the next director of Military Intelligence has been picked and the position of head of IDF Northern Command has also been filled, Alon appears set for a different role in the General Staff – head of the Planning Directorate or the military attaché to Washington.

But there is another possibility. Due to recent budgetary cuts, the IDF is considering the possibility of dissolving two positions in the General Staff to better utilize resources. The Operations Directorate chief may merge with the head of the Planning Directorate, while the GOC Army Headquarters head may merge with the head of Technological and Logistics Directorate.

If these positions were to be cut, many promising brigadier generals may be forced to retire before receiving their final promotion, and many heads of special departments may be chaired by over-qualified personnel.