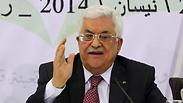 Palestinian president Mahmoud Abbas
Photo: EPA
Palestinian Authority President Mahmoud Abbas said on Saturday he was still ready to extend stalled peace talks with Israel beyond the April 29 deadline, but stressed he would never recognize Israel as a "Jewish state."

Abbas conditioned the extension of talks on the release of Palestinian prisoners, a freeze in Jewish settlement construction, and Israel committing to discuss the borders of a future Palestinian state.

Israel suspended the troubled, US-sponsored negotiations with Abbas on Thursday after he signed a unity pact with rival Islamist group Hamas – a movement which has sworn to destroy Israel. Meanwhile the United States said it would reconsider $500 million in annual security and budget aid to the Palestinians.

Related stories:

A future Palestinian government must "unambiguously and explicitly commit to non-violence, recognition of the state of Israel, and acceptance of previous agreements and obligations between the parties," the official told Reuters on condition of anonymity.

Commentators said the discussions had already hit a brick wall and the United States had been struggling to extend them beyond the original April 29 deadline for a peace accord.

Abbas, for the first time since the suspension, said he was still open to re-starting the talks and pushing on beyond the deadline. There was no immediate response from Israeli negotiators.

"How can we restart the talks? There's no obstacle to us restarting the talks, but the 30 prisoners need to be released," Abbas told a meeting of senior leaders in the Palestine Liberation Organization at his presidential headquarters in the West Bank city of Ramallah, in a speech broadcasted live in Hamas state television as well.

"On the table we will present our map, for 3 months we'll discuss our map. In that period, until the map is agreed upon, all settlement activity must cease completely," he told the officials, who were gathered for a two-day conference of the Palestinian Central Council, a top decision-making body, to asses the Palestinian strategy to achieve statehood.
Hamas won't be part of peace talks
Abbas added that any unity government with the Islamic militant group Hamas would follow his political program, and work "under my orders and my policy", an apparent attempt to reassure the West.
"Its purview will be what happens domestically. I recognize Israel and it would recognize Israel. I reject violence and terrorism and I respect international commitments," he assured in a speech that lasted more than an hour and was more educational than polemic.
But Prime Minister Benjamin Netanyahu ruled out talks with such a government.
"That's the oldest trick in the book. It's called the front office-back office gambit," he said, in which "shady organizations" put forward "smooth-talking frontmen - the men in suits," Netanyahu said in an interview with MSNBC on Thursday.
"We will not sit and negotiate with a Palestinian government that is backed by Hamas in which Hamas has effective share of power," Netanyahu said.
The deal between Hamas and Abbas's Fatah party envisions agreement on a government of independent technocrats within five weeks and holding elections at least six months later. The Palestinian split came in 2007 when Hamas seized Gaza, and reconciliation efforts failed.
This reconciliation has infuriated Israel, which - along with the United States and European Union - considers Hamas a terrorist group.
Hamas's continued opposition to Israel did not necessarily contradict Abbas, as both sides have agreed that the unity government will not include Hamas members and will instead be made up of independent technocrats.
Hamas is opposed to negotiations with Israel, calling them "frivolous," and advocates "armed resistance" against the Jewish state.
Hamas spokesman Sami Abu Zuhri told Reuters: "The recognition of Israel by the president of the Palestinian Authority, Mahmoud Abbas, is not new. What is important is that Hamas did not and will never recognize Israel."
However, Abbas stressed in his speech that negotiations with Israel would not be undertaken by the new government but by the PLO which "represents the entire Palestinian people."
"The (new) government will be in charge of what happens inside the Palestinian territories," he said. The PLO is internationally recognized as the "sole representative of the Palestinian people" and, as such, is the only one that can negotiate on the Palestinians' behalf.
Hamas and Fatah have in recent years agreed similar unity deals, that were not eventually implemented. Israeli lawmaker Tzachi Hanegbi, a confidant of Netanyahu, said on Saturday that such a scenario was likely and that it left the door open for talks to resume.
"If the agreement falls through then we come back, the Palestinians know what the Israeli-American proposal is (for restarting negotiations), it can be decided on and talks can be renewed," Hanegbi told Channel 2's Meet the Press.
'Netanyahu doesn't believe in you'
"Our goal is the form a Palestinian state in the 1967 borders with East Jerusalem as its capital. We are continuing on the path to this goal and we haven't given up on it. There will be no Palestinian state without East Jerusalem as its capital. We want to achieve our rights through negotiations," Abbas told PLO leaders at the conference, adding that any accord will be brought to a referandum that would include Palestinian refugees as well.

"During the last two days, hope was discovered, because there's a return to national unity. We will fight for the unity and won't abandon it," he added.

Despite that hope, Abbas also expressed pessimism, saying that "nowadays, there's an Israeli insistence not to reach a solution."

Abbas also told the PLO leadership that before peace talks started at the end of July, US Secretary of State John Kerry told him: "Netanyahu doesn't believe in you and that's why he demands to release the prisoners in four batches during the negotiations."

He stated that while the Palestinians have not given up on the "right of return," they've offered the possibility of compensation to any Palestinian refugee who is interested in that as an alternative.

The Quartet on the Middle East (United States, Russia, EU and UN) demands that Hamas recognize Israel and existing agreements between the Jewish state and the PLO, and renounce armed struggle.

But Abbas reiterated his refusal to recognize Israel as a "Jewish state", as required by Prime Minister Benjamin Netanyahu.

"We will never agree to recognize a Jewish state," he said, recalling that the Palestinians had recognized the State of Israel in 1993. Abbas noted that this request had not been made to Egypt or Jordan when these countries signed peace agreements with Israel.

Talks veered toward collapse after Israel failed to release a final group of Palestinian prisoners it had pledged to free in March, and after Abbas signed several international treaties - a move that Israel said was a unilateral move towards statehood.

The PA president warned that under the "observer state" status granted to the Palestinians at the UN on November 29, 2012, the PLO "has the right" to seek membership to some 63 international organizations and conventions.

He also left on the table the threat of self-dissolution of the Palestinian Authority, transfer the administeration and management of the autonomous areas of the West Bank to Israel.

Palestinians accused Israel of not focusing enough during the last nine months of negotiations on drawing future borders between Israel and a future state of Palestine, and they denounced the expansion of Jewish settlements in the West Bank and East Jerusalem.

Israel accuses Abbas of being more interested in healing the national rift with Hamas than achieving a peace deal.

Hamas welcomed Abbas' speech, dubbing it "mostly positive."

"We can only support its positions on Jerusalem, reconciliation and non-recognition of the Jewish state, as well as the failure of negotiations," Bassem Naim, a Hamas leader in Gaza, told AFP.

He also welcomed Abbas' statement saying that negotiations with Israel would not be undertaken by the new government but by the PLO.

"It is not the mission of the (new) government to address political issues," approved the Hamas leader.

"It has three main objectives: to unify the Palestinian organizations, to prepare for elections and to rebuild Gaza," Naim noted.

On the American side, US Secretary of State John Kerry, who has been sponsoring the peace talks, had to take note of the failure of his initiative, at least momentarily.

"This is a time of transition. We can not force the parties to take steps they do not want to take," State Department Spokeswoman Jen Psaki said Friday.

"We are in a phase of waiting to see what the parties decide to do next," she added.

The meeting in Ramallah, which was attended by a representative of Hamas, continues Saturday evening and ends Sunday.

Hassan Shaalan, Reuters, the Associated Press and AFP contribued to this report.