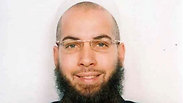 The founder of a radical Islamic website that praised figures like Osama bin Laden and Fort Hood shooter Nidal Hasan has been sentenced to two-and-a-half years in prison for using the site to threaten Jewish groups.

Born Joseph Leonard Cohen, Yousef al-Khattab, 45 from New Jersey, converted from Judaism to Islam in his late 20s, when he was living in the Middle East. Upon his return to the US in 2007, he started the Revolution Muslim website.

In a post from 2009, Khattab posted a photo of the Chabad headquarters in Brooklyn with a link to map, noting the main temple was always full during prayer time, the Washington Post reported.

Khattab admitted posting articles encouraging readers to take unspecified action against Jewish leaders and publishing names and addresses of Jewish leaders and synagogues.

Posting a video on YouTube in 2009 of violence in the Gaza Strip, Khattab encouraged Muslims angered by the Israeli-Palestinian conflict to "deal with them directly at their homes."
'My behavior was stupid'
Renouncing the articles in court, he asked the judge to hold him responsible only "for what I say, not how people understood it," the Post reported.

In an interview with NPR, Khattab admitted that his actions were "stupid" and "wrong."

"They interpreted me giving the message of Islam as being a threat to the Jewish community, which it wasn't," Khattab told NPR, but could not explain how providing addresses and pictures of Jewish leaders after an anti-Semitic post could be misinterpreted.

Khattab claimed in court that he was a "clown" and "the Gilbert Gottfried of the Muslims," saying he did not intend to incite violence, according to the Post. He also noted he would not make the same posts today.

Prosecutors say numerous people who have been convicted of terrorism-related offenses were readers of Revolution Muslim, and NYPD terrorism expert Mitch Silber said the site was linked to almost every formal terrorism investigation opened in the New York City area.

"RevMuslim became very proactive in the New York City area," Silber told NPR, "both publicly, doing demonstrations on the streets on New York City, as well as online, having a pretty significant Internet component to their efforts. Khattab was one of the two leaders of the group, he was a chief propagandist, he was an organizer, he was a provocateur."

Defense lawyers said it is conjecture to assume people were inspired to plot attacks by Revolution Muslim. They also claimed Khattab was doing what he believed was legally protected as free speech.

"To hold his responsible for all the hate and anger that's out there is not correct. He was a block in that wall, but he's not the wall," Khattab's attorney, Alan H. Yamamoto, said.

"I thought we had stayed on the right side of the line with regard to free speech," Khattab told NPR. "But it appears we went over it, we went too far, and, I'll say it, we were wrong."

US District Judge Liam O'Grady said that "freedom of speech carries with it responsibility" and added the two-and-a-half years sentence was so people would "understand the line" between free speech and criminal calls for violence.