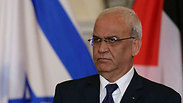 Chief negotiator Erekat
Photo: AFP
Occupation is the highest form of terrorism, chief Palestinian negotiator Saeb Erekat told Ynet in an exclusive interview Sunday.

Erekat said "Israel made a mistake by suspending the negotiations" but that, despite the dead-lock in the peace process, Palestinian President Mahmoud Abbas was still willing to meet with Israeli Prime Minister Benjamin Netanyahu.

Watch: Erekat talks to Ynet (צילום: אורי דבידוביץ' ויוגב אטיאס)

The current round of US-led negotiations broke down last week after Hamas and Fatah signed a reconciliation agreement which proposed the formation of an interim unity government until elections can be held.

Related stories:

Responding to leading Israeli politicians' demand that Palestinians recognize Israel as a Jewish state, Erekat emphasized that the nature of Israel is a domestic issue for Israelis: "It's never happened in the history of mankind that a country asked another country to define its nature. I have my own narrative and you have your own narrative."

On the eve of Holocaust Memorial Day, Erekat said "the Holocaust is the most evil chapter in human history. We stand tall as Palestinians to condemn it, now and forever."