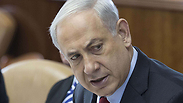 Israeli PM Benjamin Netanyahu
Photo: AFP
As Israel geared up to mark its annual memorial day for the Holocaust, Prime Minister Benjamin netanyahu renewed his attack on the new Palestinian unity agreement between Fatah and Hamas by drawing a comparison between Hamas and the Nazis.

"Hamas is trying to start another Holocaust," the prime minister told his cabinet at the start of its weekly meeting Sunday. "We hope that he will withdraw from the alliance and return to the path of peace."

Netanyahu also reportedly dismissed a statement by Abbas on Sunday, in which the Palestinian leader branded the Holocaust "the ugliest crime in modern history."

Related stories:

"Instead of issuing statements designed to placate global public opinion, Abu Mazen needs to choose between the alliance with Hamas, a terrorist organization that calls for the destruction of Israel and denies the Holocaust," the prime minister said.

"The main difference between the helplessness of the Jews in the Holocaust to the situation of Jews today is that today we have a strong country with a strong army that defends us," said the Prime Minister.

Netanyahu took the opportunity to lash out at other countries in opposition to Israel saying, "Iran tops the list of those who seek our lives; it has declared its intention to destroy us. In addition to its effort to arm itself with nuclear weapons, Iran arms, finances and trains Hamas and other terrorist organizations on our borders. Hamas denies the Holocaust even as it attempts to create an additional Holocaust by destroying the State of Israel."

Israel will on Sunday night begin its yearly Holocaust Remembrance Day, in which it honors the memories of the six million Jews who perished at the hands of the Nazis during World War Two, as well as honoring those who helped Jews to survive.

On Sunday morning, Netanyahu posted on his official Facebook page an image of Palestinian President Mahmoud Abbas with Hamas leader Ismail Haniyeh, in which both are smiling. The picture was accompanied by the caption, "Abu Mazen is forging a pact with Holocaust deniers", referring to the Palestinian leader by his nom de guerre.

Saeb Erekat, cheif negotiator for the Palestinians in the peace talks also commented on Holocaust Memorial day telling Ynet, "the Holocaust is the most evil chapter in human history. We stand tall as Palestinians to condemn it, now and forever."