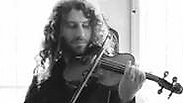 Michael Greilsammer performing his mash-up
Photo: YouTube Screenshot
Israeli musicians have made beautiful music by mashing up the national anthem "Hatikvah" with the haunting theme music from HBO's smash hit fantasy drama "Game of Thrones."

The mash-up was the brainchild of Israeli musician Michael Greilsammer, who created the piece to promote his upcoming show in France.

"Right after watching the last episode of 'Game of Thrones' I got a call regarding my concerts in France for Israel's independence day," Greilsammer told the Hollywood Reporter this week. "They asked for a promo video, at that moment I got the idea to do this."

This year, Israel celebrates its 66th Independence Day on May 6. As always, it will be immediately preceeded by the Day of Remembrance for Israel's fallen soldiers and victims of terrorism.

"Game of Thrones," now in its fourth season, has been an international success, earning accolades and awards for American Jewish show runners David Benioff and D.B. Weiss. It has also made bestsellers of each of the five existing books in the series on which it is based, A Song of Ice and Fire by George R.R. Martin.